A True Midsummer Night's Dream for Students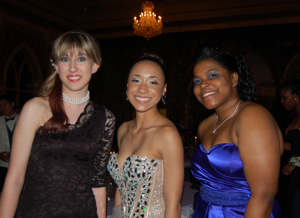 A night full of friends, limos, music and a whole lot of dancing. North Point students gathered for a night of bliss for this year's prom. This year's theme was "Midsummer Night's Dream" and students surely felt like they were dreaming as they approached in their slick stretch limos and walked through the doors of Camelot's well decorated ballroom. With a DJ, a wide array of food, and friends gathered around, students were ready to get the night started.
With prom being opened to the juniors and seniors, some were ready for a new experience while others knew what to look forward to. Jackie James ( '12) said that her first prom was great. She added there was "great friends, great dancing and of course, great food." James also enjoyed the range of music that was played. "Prom was a truly fun experience and I enjoyed sharing it with my friends." Lauren Kogok ('12) agreed.
Rebecca Creighton ('11) claimed that she had a wonderful time."I would like to thank Mrs. Cheney-Heiser, Mr. Leonard, and the class of 2012 for putting everything together." This year, Creighton got the chance to be on the prom court with her date, Chris Lawrence ('11). "Being on the court definitely made prom night very fun and memorable," she said, "it was everything I hoped it would be and more."
As the DJ announced for everyone to make room on the dance floor, North Point's 2011 Prom Court took the stage. As each couple was named and took their walk to the middle of the floor, all eyes were on them. Everyone waited quietly in suspense until North Point Principal Mrs. Hill announced Justin Martin ('11) and Darby Knowlan ('11) as this year's Prom King and Queen. The crowd cheered as the lucky winners were awarded their sash, crowns, and took the floor for a dance, alongside the rest of the court.
Dancing was not the only fun part about the prom. Professional photographers were available to all students for their prom photos and there was a spread of fruits and finger foods for students to choose from, as well as a smoothie stand.
However, sometimes the best part about a party is what happens before the party even starts. James claimed her favorite part about prom was getting ready with my friends. "That's when you really have fun because you goof off. It really started the night off to a good start," she stated.