Trojanowski Named North Point Career Research & Development Student of the Year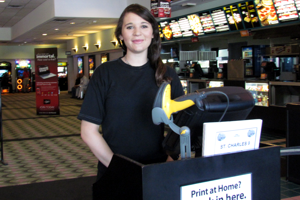 This year, Latanya Trojanowski ('11) has been named North Point's student of the year through the Career Research & Development / Work-Based Learning program.
The process to become North Point's Student of the Year takes time and effort for the participants. Students have to be nominated by their employers through the Work-based Learning (WLB) program, a class that prepares students for the workplace.
Every day, Trojanowski leaves school at 11:00 am as part of the program to work at the AMC Movie Theater as an usher and concessionary. She was also recently named the theater's "Difference Maker" for the month of April.
"My favorite part about working here is being able to help our guests have a pleasant experience," Trojanowski said as she stuffed a bag of popcorn for a guest.
After she was nominated, a panel reviewed multiple applications at North Point before choosing two participants. These participants were then interviewed by a panel at the Board of Education, and one was chosen to represent North Point High School.
Trojanowski says that she has learned a lot from the work-based learning program. "I gained some really valuable time-management skills. This year I've had to learn how to balance working while being a student, staying organized, and keeping my grades up."
But all her hard work and effort did not go to waste. Trojanowski won a $500 scholarship through the program. The winning announcement was made at the annual Career Research & Development / Work-based Learning Employee/Employer Breakfast on April 28 at the J.C. Hall in La Plata. Trojanowski plans to attend Towson University in the Fall to study Business Marketing.