Students Explore the Criminal Justice Field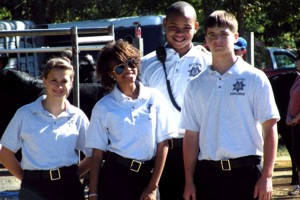 Responding to a domestic situation; making a traffic stop; putting a belligerent suspect into handcuffs. These are not typical extracurricular activities for the average high school student. But then again, the students who participate in the Charles County Explorers program are far from average.
The North Point post of the Charles County Explorers, a program that is a subsidiary of the Boy Scouts of America, was founded with the intention of exposing young men and women interested in a career in law enforcement to the field. In the words of Officer Calloway, adviser to the group and Criminal Justice Instructor, "The program helps them on a career path and in becoming a better person, giving them leadership potential."
The Explorers club has close ties with North Point's Criminal Justice program, as all of its students must join the club. However, other students are welcome to become members as well. The most important prerequisite is a thirst for learning more about the Criminal Justice field. Members must also be between the ages of fourteen and twenty one, and attend 75% of meetings.
"I joined because I wanted to be a cop and I know the more experience I have with law enforcement, the better chance I have to become a cop," said Jania Osbourne ('11).
Explorers meetings are a haven for any crime and punishment buff. The group regularly plays host to speakers in the law enforcement field, including members of the Charles County Sherriff's Office, U.S. Marshalls, and public defenders. Additionally, the students engage in many hands on learning activities.
"My favorite thing is when we do scenarios," said Elizabeth Burgess ('13). "We just practice what an actual police officer would do." She went on to describe activities where the Explorers utilize real handcuffs and plastics guns to simulate the experience of officers in the real world.
In addition to its regular meetings, the Explorers participate in a National Explorers Conference, held biannually. North Point's explorers have experienced high levels of success, taking first, second, and third place nationally. The club also embarks on field trips to destinations such as the Spy Museum in Washington. The Post gives back to the community through various service initiatives.
Participation in the Explorers often leads to a long term commitment to the criminal justice field. "We've had, at last count, thirty one criminal justice explorers get into the law enforcement profession," said Calloway. This figure is not surprising, considering the passion shown by the club members.  He compared the program to a stepping stone that bridges the space between a student's interest and further pursuit of the field. A member of North Point's class of 2010 is currently on track to become a cadet in the Charles County Sherriff's office. He certainly will not be the last.