Students Electrify North Point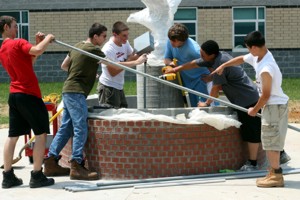 When the bell rings, the Electrical Construction students get down to business, strapping on work shoes and getting out their tools.
To be in the class, in the words of Mr. Gascon, "Students need good math skills, a good work ethic, and a willingness to work with hands and tools".  By the time sophomore year rolls around, students are learning basic tools, materials, blueprint reading, employability skills, and communication on the job. Then, during junior year, the foundational training year, students master electrical theories, national electrical code, residential wiring, circuitry, conduit bending, and how to read electrical drawings. Finally, as seniors, students begin working on motor control and more advance code calculation, as well as commercial wiring.
By the time students leave the class, they will be Construction Core and Electrical Level One certified, a new certification at the high school level, by the National Center of Construction Educational Research. "We are working toward 100% certification and by next year, we should have 100% certification," said Mr. Gascon.
Each year, the Electrical Construction students do a major project. This year, they worked on the landscape lighting for the memorial garden in the new courtyard. By installing underground cables, trenching, and wiring, the class lit up the eagle. "Outside with the eagle, the class worked together to get the job done," said Zach Lehamm ('12).
"I picked this program because I was interested in all the circuits and wiring," said Brandon Henry ('12). He hopes to become an electrical engineer and said that taking this class has given him the theory necessary to create new systems.
Each year there are a couple of girls in the class, and over the years several have graduated. Even still, the class has a male majority. "It definitely has its downside," Henry said, wishing that there was at least one girl in his class. Justin Rorie believes differently. "There is a lot of male bonding. Due to the lack of females in the classroom, we get a lot of work done because we are not as distracted."