Kortez Prather: King of Cosmetology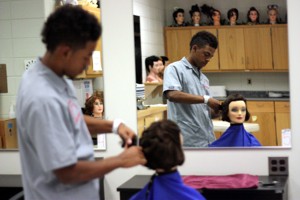 Everyone always seems to think that cosmetology is strictly "a girl thing." The nails, hair, make-up…everything. However, Kortez Prather has proven that it clearly is not.
Since sixth grade, Prather has dreamt of owning a barbershop. He was only interested in the male aspect of cosmetology (barbering) at first. Now that he has gained more experience in cosmetology, he has decided that he wants to own a non-unisex shop.
At first, it was slightly awkward for Prather to participate in all the cosmetic activities that the rest of the girls in the cosmetology program did. He couldn't relate to their conversations about beauty. Nowadays, it is much easier for Prather to relate to his female friends in cosmetology. "They finally learned to stop talking to me about things like Bad Girls Club, and start talking about things that I can relate to, like sports," said Prather ('12).
The relationship between Prather and the girls in cosmetology is similar to that between a brother and a sister. "They know they can talk to me about anything, and I always give them advice," he said.
Some may expect that he is often ridiculed by his friends, but in reality, Prather's friends are very accepting of his interests. His close friends "just make small jokes, but when they want a haircut [he is] the first one they call," said Prather.
Personally, Prather thinks that his role in the cosmetology program makes him more attractive to women because it's different. He said, "Not every girl wants a boy that does exactly the same things as others, like welding or carpentry."
Kortez plans on continuing with his experience with cosmetology and establishing a career for himself. He plans on getting a degree in business management, and using it to own multiple shops. "I've always loved the environment of barbershops and hair salons. I don't like sitting at a desk all day, and I love to interact with people," he said.
Although several colleges are currently scouting him for football, Prather plans to keep up with cosmetology throughout college. During the football season, he will do a little bit of cosmetic work, but not hold a job at a salon or barbershop. During the off-season, he plans to work to make money, and keep his cosmetic skills "fresh."
Cosmetology really isn't just about beauty, either. There is so much more to it. In the class, students learn not just about nails and hair, but also about parts of the body and specific diseases. They are actually required to take Anatomy in order to pass.
After Kortez's senior year comes to an end, he will have graduated with not only a diploma from North Point, but also his state cosmetic license. In order to obtain this license, he needs 1500 hours to take the hands-on test, and 1380 hours to take the written test. The cosmetology teachers keep track of his hours, and he is well on his way to a successful career in cosmetology.