AA: Alternatives to After-Parties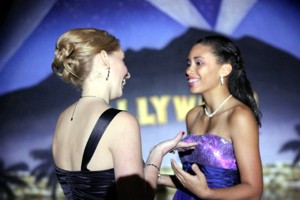 After-parties are a very common way for students to celebrate the end of homecoming each year. Since alcohol is often found at these parties, many teens drive home intoxicated, wake up with a hangover, or have trouble completing usual day-to-day activities. Although after-parties can be considered to be fun, there are several other ways to celebrate the end to this year's homecoming.
Midnight bowling, going out to eat, and catching a movie are a few examples of alternatives to after-parties with alcohol. Students often do these activities with a group of friends, which is usually a good idea since they are out so late.
Emma Veteto ('15) went to Denny's after homecoming with a bunch of her friends. "Partying really just isn't our scene. A lot of inappropriate things happen at parties with alcohol, and we really just don't want to get involved," she said. Veteto is correct; people who attend after-parties with alcohol often run into troublesome situations, such as getting sick, saying or doing things that they don't mean to, and drinking underage.
Underage drinking is taken very seriously in today's system of law. Although it is considered a misdemeanor, it is punishable by hours of community service, fines, and even jail time. Adults of legal drinking age who provide underage drinkers with alcohol may also be fined, but will most likely be sent to prison.
Chanel Ennevor ('12) chose not to party after homecoming this year because she didn't feel it was necessary. "I have more fun by hanging out with a few close friends and doing something other than drinking," she said. Ennevor and a few of her friends went midnight bowling after homecoming, where they all seemed to have a great time. She also brings up another good point: the bigger the group of people, the more likely it is for trouble to be caused.
Groups of people often cause more trouble not only in public areas, but in private areas as well. This is why there are rules at the mall like "no group bigger than six permitted." Groups tend to do things together; therefore, if one person in a group is doing something they are not supposed to be, other members of the group are likely to join in just because they are a part of the group. There are often several groups of people at after-parties, and unsafe events are usually started by the masses.
Consuming alcohol can be very unhealthy for any underage drinker. Remember, there is a reason the legal drinking age is 21. Even though homecoming is over, parties with alcohol do happen on a regular basis. Whether they are during the school week or on the weekend doesn't really matter; they are never safe to attend. To prevent getting sick, suffering from a hangover, doing things you don't want to, and running into trouble with the authorities, spend your night a different, fun, healthy way. There are several alternatives to parties with alcohol, and each of them can be just as accessible as the parties themselves.