STI Feature: Manufacturing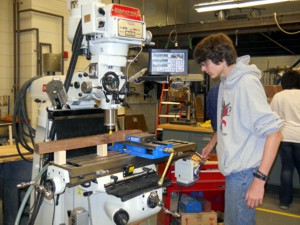 There are many Science, Technology and Industry programs at North Point, including Criminal Justice, Cosmetology, and Health Occupations, but there is one STI program that is hidden from the public eye. This STI is Manufacturing, which is taught by Mr. Hollyfield.
The Manufacturing STI takes raw materials, such as wood, and turns them into a finished product. The manufacturing classes are made up of up to fifteen students. The class is 90% hands on, and 10% informative lectures that introduce new information. The students make various types of products using different tools.
The students start off with hand tools and then move up to technology, such as computer numeric control machinery (CNC). With the CNC, the students design the products on the computer and the machine creates the product. The machine can make products such as signs. One student made a sign with the CNC that was inscribed with "North Point High School Eagles."
The students also learn how to weld as a part of the program during the second semester of their junior year. The different tools that the students use require many safety precautions. Safety glasses are highly necessary. When the students are welding they are required to wear a full face shield and cotton long sleeve shirts.
The students learn how to produce items such as tables, birdhouses, stools, planes, castles, and catapults. "The easiest items to produce are shelves and doors, because they're square," said Kevin Rudaski ('12).
There are many opportunities available after four years in the manufacturing program. Students have opportunities at machinist apprenticeships. Once students graduate from North Point's Manufacturing Program, they have certification that they can take with them to college or into the work force. They have also have earned six college credits.  Students have many options for college. Students can get a two year Associate's degree in manufacturing, or even a four year Bachelor's degree, which can lead to a student becoming a manufacturing engineer.
There are many benefits to a career in manufacturing. A manufacturing engineer is the seventh highest paying degree. A student who earns a degree in manufacturing engineering can earn $57,000 right out of college.
There are many challenges that students face in the manufacturing program. "The hardest part is probably getting use to everything and learning how exactly to use the machines," said Frank Marshall. Though there are struggles in the class, the students still enjoy it.  According to Jerome Roberts ('12), "It's pretty cool, and I like being able to build stuff."