Students Discover the Art of Pottery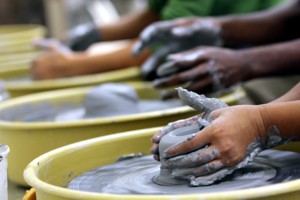 Not to be confused for a club where students throw clay around, the Pottery throwing club is actually an opportunity for students to use the potter's wheel to make anything. From mugs, bowls and pots, to even lamps, the possibilities are endless.
When the NEST bell rings on Fridays, students pour into the Pottery Throwing Club in Room 523 and head to the potter's wheel to whip up a masterpiece. Wet and muddy clay runs through their fingers, slipping and sliding on their hands, and oozing up to their elbows. Students get into the dirt and grime.
All are welcome to the club at any time of the year. No prior experience is required. The sponsor of the club is Dr. Alo. She demonstrates how to use the wheel, handle the clay, and glaze to the new comers. In addition, she provides directions sheets for throwing and glazing. "I thought running the club would allow people who didn't take the pottery class to have some experience with clay," said Alo.
The potter's wheel presents challenges to students. Using their muscles, students must brace their arms down without raising their elbows and shape their pots. First time attendee Dantrell Johnson ('14)  found the process difficult. "I have no muscles at all so it [the clay] will not change shape," Johnson expressed. Despite the difficulties, he hopes to make something superior to give to his mother.
Many Ceramics One students join the club to use the wheel before their class actually starts.
Ceramics One student Becky Mase ('13) walked in on the club one day and thought it was awesome. "In class we have rules, but in Pottery Club, it is like the class except there are no rules," she said.
Lexy Gannon ('14) joined the club for more practice for her Ceramics One class. "The club helps with my workmanship skills, I am a perfectionist on my pots; they all have to be clean and smooth." For Ayana Albury ('14), the club is an opportunity for students who can't be creative on paper to be creative sculpturally on the wheel.
Marquella Allen ('13) had been interested in pottery for a while, but couldn't do it because she never took the class. In her words, "When I found out there was a club, I started doing it and it is very fun and relaxing."