The Diagnosis: Senioritis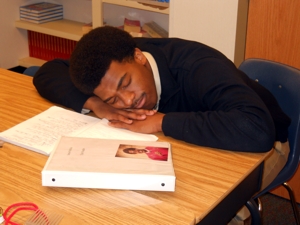 Senior Year is a wondrous time – one chapter of life is closing as another is just opening. Students make plans for the future, say goodbye to old friends, and hopefully move on to bigger and better things. That is, if they can get through the year first.  By January, even the best students are susceptible to senioritis, an infliction that can have consequences much larger than grades on a report card.
According to the College Board, experts on the subject, senioritis can be described as the senior year slump, when 12th graders 'take it easy', allowing homework and studying to go by the wayside. That 3.0 can fall to a 2.0, and that spot on the honor roll disappears.
"I haven't seen the senioritis come in yet…normally it sets in right after Christmas…it all goes downhill from there," said Mrs. C. Smith, who teaches senior English.
That downhill spiral is no joke. As the National Association for College Admissions Counseling reports, "Every year, colleges rescind their offers of admission, put students on academic probation, or change financial aid packages because of (senioritis)."
How, then, can students fight this infliction?
"They need to keep in mind that…all acceptance letters are contingent upon receiving your high school transcript. You can fail a class, still get your diploma, and then be rescinded," said Mrs. Grow, North Point's College and Career Advisor.
Student views vary on senioritis. "It depends on the class…when I figure (senioritis) out, I'll let you know," said James Harris ('12).
Other students believe that, despite the warnings, they will stay immune to the disease. According to Erica Adedeji ('12), "I can't get senioritis because my personality is too OCD about grades. So, it doesn't really apply to me."
Even if students' offers of admission are not rescinded, blowing off the final year of high school does not bode well for the first year of college. It becomes harder to keep up in classes that build on skills students should have gained during the spring of their senior year.
The bottom line is this: seniors must remember that it's not over until it's really over. Senior year does not end with the first acceptance letter, or after Winter or Spring Break. It ends on June 5th, with a walk across the stage.