Senior Tyler Hill Declared Allison Legacy Series Champion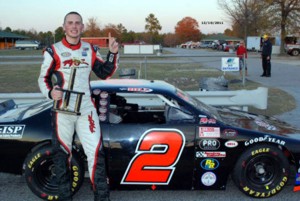 Stock car racing is not a common sport among today's youth. However, North Point senior Tyler Hill races stock cars competitively, and apparently very well. Last year, he claimed the championship title of the annual Allison Legacy Series.
The Allison Legacy Series has been around for a little over fifteen years now. Just like all of Hill's other races, the distance covered spans 50 laps. Several children of modern-day NASCAR drivers also race in this series, giving Hill the opportunity to integrate himself into the world of NASCAR.
To determine the winner of the series, a points system is used. In second place finished Justin Allison, the son of the series' owner, Bobby Allison, with 1599 points. Hill surpassed him by 94 points, making for a grand total of 1693 points at the end of the series. His biggest accomplishments throughout the series were winning thirteen out of eighteen total races, within which he had a 4-win streak.
Tyler Hill is not the only one in his family involved in racing; his father and older brother participate as well. Hill's father actually participated in NASCAR for a number of years, last racing in 2003 in what is now the National Series. His brother, Timmy Hill, won the NASCAR Rookie of the Year Award in 2011. Tyler hopes to follow in his brother's footsteps, and he is already off to a very good start.
Hill got involved in racing at a very young age. When he was five years old, he began to race go-karts at a local track across the bridge in Virginia. He then started racing bandaleros, which are just simply smaller stock cars. They serve as the stepping stone to what he currently races, a ¾ stock car. As he and his brother grew older and became more involved in racing, Hill's father dropped his NASCAR career in order to help his children jumpstart theirs.
As a high school student, Hill struggles to maintain good grades, while staying healthy enough to race as vigorously as he does. "Most kids have their weekends so they can get things done, but I just don't have that privilege. After travelling for fifteen hours in a car, the only time I have left I usually spend at the racetrack, but I make it work," he said.
Hill attended the Allison Legacy Championship Banquet on January 7th, at which he received his official trophy signifying his accomplishment. Even though this win is a huge step for Hill, he will continue to strive to be a better racer; "Winning something and being better than your competitors always makes you feel good, but winning this series has given me something to show others what I'm capable of. Even if I don't end up being a NASCAR driver, I just want to race."