Not Quite Law & Order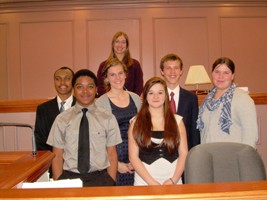 What is mock trial? Mock trial is just like a simulated court scenario in which students are given a court case and must either defend or prosecute their case. This might sound like Law and Order, but it is anything but that. Students start preparing in October for the mock trial. Depending on how many students try out, one can try to be either a lawyer or a witness. There are only eight to fourteen spots on the team though, so not everyone makes it. "It's a challenge," said Sarah Jones ('14), "There's a lot involved, but it's really fun." The team currently has eight members: Roland Thorpe ('13), Julia Munoz ('14), Elaina Lopez ('15), Sarah Jones ('15), Trevor Whaley ('12), Katie O'Donnell ('15), Devante Thomas ('14), and Tony Teleky ('14). "We all get along really well," said O'Donnell.
After months of pr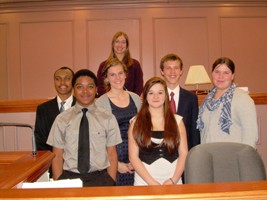 eparing and getting ready for the mock trial (the team studies up on one case for the entire year, and they have to both defend and prosecute, depending on the competition) competitions, the team goes to real courthouses to state their case. On the bus, Mrs. Nadasky, the club sponsor, preps the team members before they arrive. Even though it's a very serious and professional discussion, the students all joke around and get along very well. When they arrive, they go into the jury room and wait for their case to start. Everything is very realistic and is set up like a real court case. For the judge, they have either a lawyer or an actual judge listen to their case. They are then scored in ten categories from 1-5; one being the lowest and five being the highest. In some cases, there is even a tie-breaker point which determines who did better in the case overall, and the winner of that point wins the match. This happened last week when North Point went up against Leonardtown and beat them with a perfect score of 60. "Getting a perfect score is really rare," said Nadasky.
Now, maybe one has never heard of this club; that might be because it is not offered to students during NEST. "We have our meetings after school on Tuesdays until late November, then we have it every Tuesday and Thursday," said Nadasky. "We have it after school because we don't want people thinking that they can randomly join, because it's an academic sport, and we also decided that we wouldn't get much done."  Nadasky also stated that she has former students who are now considering a degree in law because of their mock trial experience.
Editor's Note: For the first time in North Point history, the Mock Trial team will be competing in the Circuit 7 Championship Playoffs. Team members will be facing off against schools from P.G., Calvert, St. Mary's, and Charles Counties on March 6th.