Drafting: Designing the Future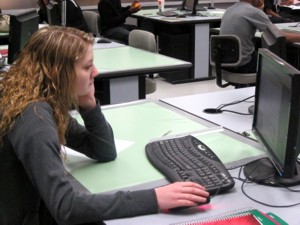 Drafting is one of the many Science, Technology, and Industry programs here at North Point. It draws in the students who are big on architecture and building designs. Reema Domadia ('13) said, "I am interested in the creativity that drafting brings to you and it helps you realize your full potential." "Most of us want to pursue a career in this in the future," said Christian Jones ('13). Some different careers that students in the program are interested in are architect, landscape architect, civil engineer, drafter, and other related fields.
The difficulty level for Drafting is not very high for the students who show great interest. "Most students do not have a problem with it," mentioned Jones. He continued, "We try to incorporate drawings and designs to help our environment and community." The projects consist of virtually creating floor plans for their houses. In order to create these houses, the students have to use certain programs like AUTOCADD and Google Sketch-up to get the job done.
The class is taught by Mr. Brown, a very talented and kind-hearted teacher according to his students. Domadia said, "He's a very nice person. When you ask him for help he helps you. And he teaches us new techniques on how to do the project." Mr. Brown loves what he does and wants every one in the class to as well. The passion he has for Drafting is reflected on the students that he teaches. "He always tries to push us to our full potential," said Jones.
The students in the Drafting program may be the future engineers and architects that design great things. One of them may be responsible for someone's dream home. At North Point, students can get a haircut or even get their car fixed; now they can go to Drafting and have their dream home created.