Man of Many Mediums: Brandon Chatmon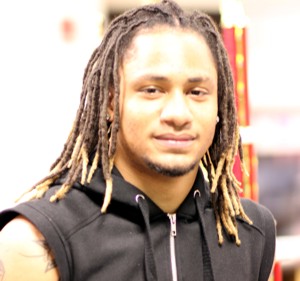 North Point has a jack-of-all-trades in its midst. From 2-D and 3-D to tattoos and sculpture, artist Brandon Chatmon ('12) does it all. With a vast arsenal of skills, he is easily able to express emotion, capture little details, and engage interest in his viewers.
Chatmon's interest in art was first sparked by his older brother. He was an artist who was his senior by three years. Admiring his work, Chatmon began to mimic it. Though initially his work was not up to par, his skills in drawing eventually expanded. By the age of twelve, he was incorporating art in school projects and focusing on honing more skills. When high school rolled around, Chatmon transformed into a versatile artist. "He has a lot of talent…. For a guy to do 3-D work like he does, he has lot of vision and is very creative.… A lot of kids are afraid of 3-D medium but he is not," said AP studio art teacher Mr. Ball.
As with any artist, Chatmon's work has been ever-changing. In 9th grade, when he was in Art I, he was introduced to many mediums. The next year his interest in 3-D art peaked as he took Art II and Architecture classes. He expanded his horizons even more in his third year in art when he took up painting. Finally, now in AP Studio Art, he does a little bit of everything. In each piece he strives for the uttermost perfection. "I try to make things look just right so I spend a lot of time on detail," Chatmon stated.
Through his work, Chatmon has garnered attention. In fact, last year he was named Most Outstanding in Visual Art for his canvas painting of a lion fish. In June 2011, he hit another landmark in his artist career: becoming a tattoo artist. With diligent practice and a work ethic, he uses fake skins to simulate tattooing for three to four hours a day. When he tackles a tattoo, he is fearless and focused. The most rewarding part for him is "Seeing the looks on people's faces. When they see my work they are amazed," he said.
Moreover, he plans to use his artistic ability to his advantage as he pursues a degree in Engineering in college. Opening a tattoo shop with his brother is one of his hopes for the future. For now, he prepares to send his AP Studio work to the College Board, ready to show them his admirable skill.