STI Feature: North Point's Not-So-Mad Scientists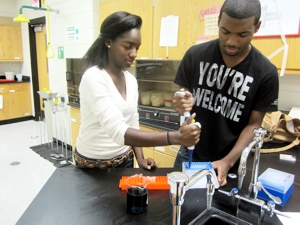 Walking into the Biotech classroom, it's obvious that this is no typical high school science lab. In one corner there is an incubator shaker; in another, a contraption swirls test tubes around in a bed of water.  A cabinet of bright green lab goggles sits ajar, ready to be put into action. These features come as no surprise; after all, the crux of this Science, Technology, and Industry (STI) program rests on preparing students for college level science classes.  Over three years of instruction, beginning in tenth grade, the program's sixty students become very well acquainted with the fields of biology and chemistry.
In their first true entry into the program, Biotech I, sophomores in the program spend most of their classroom time learning practical lab skills. In Biotech II, some emphasis shifts to classroom instruction as well. By Biotech III, students are working at complex levels of scientific inquiry.
As senior Biotech student Isabel Burick ('13) describes, a typical day in Biotech III follows a pretty set routine. "We will go into lab, where we have a routine of sterilizing and cleaning glassware," she notes. "And then we perform as much of the lab as time allows us." Labs vary in subject, centering on topics such as making agar gels (for cultivating bacteria) and growing cells for further experimentation.
These labs can be tricky, and at times, frustrating. The PAGE technique, used for gel electrophoresis, a process to separate proteins in DNA for analysis, has become notorious for the delicate touch it requires in order to yield results. However, an overwhelming majority of Biotech students seem very much at home in their program. "It's kind of like our little family," noted Gabby Chan ('13). She and the thirteen other Biotech seniors have grown close in their time together, planning group movie nights and dinners. The students also care for a class hamster, Rocky, who is surely unique among the STI programs. The opportunity to form close relationships is one of the major advantages of enrolling in a program of this sort.
"I get excited when my kids learn how to make LB Agar…it's fun to see their expression," noted Ms. Toledo, who instructs the program. With experience working in labs at the National Institutes of Health and National Institute on Drug Abuse, Toledo brings a lot of real world knowledge to the classroom. And her students appreciate that fact. In Nate Hoxie's ('13) words, "Mrs. Toledo is a great teacher. Her instruction method emphasizes the application of the concepts we are currently learning. This helps me to understand the material at a deeper level."
When senior year arrives, that understanding builds to the culmination of the three year program: a capstone project. "Students have to come up with their own idea, research it, design their own procedures, and make their own chemicals," said Toledo. "It's very intense for them." The results make the stress worth it. In previous projects, students have altered worm RNA to affect movement and shown that anti-microbial agents, like soap, don't work as well as people think.
This three year boot camp in scientific experimentation puts students in a great position as they transition into college. "I picked biotech because I was interested in the jobs you can get in the field later on," said Reagan Holmes ('15). The career objectives vary – Holmes is considering pharmaceuticals, Hoxie neuropharmaceuticals, and Burick medicine. But one thing is common among all of them: they are prepared.