Welding Together a Future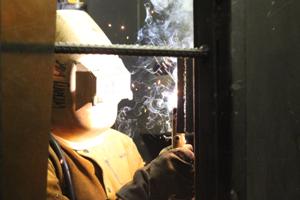 Heading in to the large industrial garage, large machines, metals, and various projects line the room. Pulling on their work jacket, gloves, and boots, the Welding students are ready for another full day of work.
The Welding Science, Technology, and Industry program (STI) prepares students for careers in the welding field. One of the achievements students can obtain in this program is a national welder's certification, which can be used in future jobs. Every certification test passed guarantees the student a job after graduation and more money, an increase of $5 to $10 dollars, every hour.
Each year in Welding, students learn and build upon several skills, such as reading and understanding blueprints, using several power tools, oxyfuel cutting, and base metal preparation.
During class, students are in their boots welding, and working or either class projects or individual projects. "Every day in class, you get your stuff ready, clipboard signed and you get to work," said Shelby Kupniewski ('14).
The Welding program also does work around the community for various organizations and high schools. Some of their projects include building battery boxes for emergency medical services to attach to their bikes and building the boxing ring at the Waldorf Fitness Center. The Welding program is also responsible for the benches seen in the North Point memorial courtyard.
The instructor of the program, Mr. Badeaux, is very passionate about instructing the program and the students in it. "The most satisfying thing as an instructor is seeing eighty-five percent of my students are welding today in the field, or becoming welding supervisors and foreman, the highest number ever."
Students appreciate the experience the program provides for them. "We get hands on training in the classroom every day," commented Dominique Traynham ('14) "Everything we do will help us in the future."
Despite the various challenges brought every day in the program, these students will be more than prepared for any endeavors they plan on pursuing. For now, they will continue to amaze North Point as they weld their way to success.