Academic Eagles: A Scholar's Playground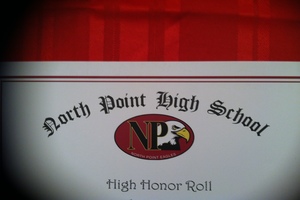 Japan Club, Magic Club, It's Academic: just a few of the several clubs offered at North Point. However, one new club has arrived on the scene with a goal in mind: putting the spotlight on academics.
Academic Eagles was founded out of a need for students who have academic accomplishments to be recognized to the same extent as athletic accomplishments are. While students receive honor roll certificates in homeroom, students felt they could do more than that. Another goal the club hopes to reach is to open the eyes of students who are performing well in school to look into scholarship opportunities and college if they are not already.
"It's a club in the making; all of the activities are determined by the students," said Ms. Griffin, the sponsor of the club.
Some of these activities include a test prep book exchange, where students can get rid of old Advanced Placement (AP) and SAT test preparation books they do not need any more and pass it along to students who do. This encourages students to share their resources with each other so everyone can aim for the highest success.
"I think Academic Eagles really encourages students to do the very best they can to reach their goal,." commented Jasmine Greene ('14), a member of the club. "The club provides the support and resources students need to succeed academically."
While the club is still relatively new, they are already making waves and trying to solidify their place at North Point. "We're definitely trying to decrease the distance between sports recognition and academic recognition, but as with all things, it takes time. I hope that, a few years from now, future North Point students will really experience the difference," said Azeezat Adeleke ('13), the founder of the club.
Academic Eagles meet every Thursday, during the second half of NEST, in room 343.