A Small Look inside AP Euro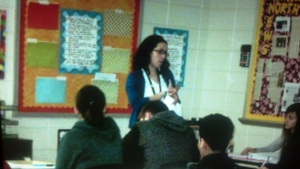 One of the smallest classes here at North Point is AP European History. One has to wonder what it is like to be in a class this small. With a population of only ten students, how does it differ from a class of twenty or thirty students?
AP European History is taught fourth block on "B" days by Mrs. Newton, who also teaches World History. AP Euro was Newton's favorite class back when she attended La Plata High School. Newton said, "It always connected to my favorite movies." Another reason why she found it so interesting is that a lot of things that happened in Europe affected the rest of the world.
The class first starts in the medieval period and then works its way up to the present. "It is all about Europe," stated Newton. They talk about all the European countries; everything from Great Britain all the way to Russia. They tackle all the important subjects like politics, culture, social history, and economics.
This class is only open to juniors and seniors. A lot of juniors do not take this class because they already have to take a World History class. This is part of the reason why the class is so small. Another reason is that this class conflicts with students STI programs. According to Newton, AP Psychology is a more popular social studies class. There were around thirty students that originally signed up for AP Euro, but it eventually dropped to the ten students she has now. Newton enjoys her small class. She said, "They are a nice little intimate group." Her biggest AP Euro class had only sixteen students in it, so she is use to the small amount.
An advantage to having a small class is that the teacher can provide more individual attention. "I like the class because it is only nine other people and the work is more individualized and intimate," stated Shawn Randolph ('13). When there is a class discussion everyone has the chance to be heard. A disadvantage to having a class this small is that they cannot do certain activities because it requires more people. Another disadvantage is that if students are not prepared for a discussion then there will only be a couple of people speaking, and not everyone will be engaged.
This class is not a requirement, but an elective. It is also an Advanced Placement class, which means the students are there for a reason and actually want to be there. "I wanted to take the most challenging course in history and I wanted to challenge myself," explained Randolph.