The Real World Starts There: Health Students Conduct Civista Clinicals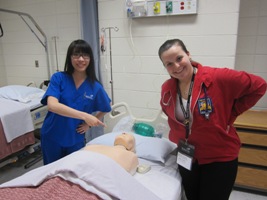 Helping to deliver a baby. Changing the sheets of a patient in her last hours. Using CPR to coax a body back to life. Viewing an intense surgery, in person. These situations may sound like scenes from a primetime medical drama like House or ER, but they are actually the experiences of junior and senior students in the Academy of Health Professions (AHP), formerly known as Health Occupations.
A major part of this Science, Technology, and Industry (STI) program is giving students hands on experience in what it is like to work in a hospital, doctor's office, or other health care facility. The students "experience a lot of first hand situations they normally wouldn't experience until medical school," said Ms. Bodamer, who instructs AHP along with Ms. Koenig. "It helps them decide what they want to do in the future."
When AHP students reach the second semester of their junior year, they begin logging clinical hours at Civista Medical Center in La Plata. They spend almost two hours at the hospital for two or three days a week.  The students' status as North Point Health Professions students puts them one rung up the latter from Civista's normal interns. The hours they accrue will help them earn their final CNA certification when they graduate. The students typically work in the Emergency Room or Ward 2 East, which serves a variety of patients. The units include radiology, rehabilitation, same day surgery, and labor/delivery, which Laroz Leggett ('13) calls "by far the best unit."
Upon speaking to students who do weekly clinicals, it becomes obvious that they have many stories to tell. "My hardest moment was taking care of an elderly woman who was in the hospital to basically die," said Adam Kassem ('13).
"There are a lot of emotional, physical, and mental issues they have to deal with," said Bodamer. "They're put in very adult situations that they have to handle."
Other than Civista, AHP students gain experience at the Charles County Health Department, local nursing homes, pharmacies, doctor's officers, veterinary clinics, and dental offices.
"It's a program that challenges you on a personal level every day," said Maggie Campbell ('13).