Not Your Average Prom Proposal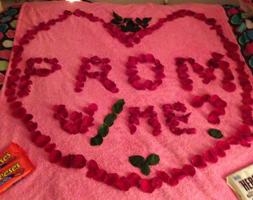 There are many things to do before prom, like getting a dress or a tuxedo. Another thing that is on most people's To Do List is to get a prom date. This year, students were not settling with just simply asking the question, "Will you go to prom with me?" but adding a little flare and creativity to it.
There were many different ways the guys asked the ladies to prom. Some made signs, some made shirts, and some, like Adam Kassem ('13), dressed up and brought flowers. He went the extra mile to ask Sarah Buffington ('13). Kassem arranged the white roses to spell out prom within a bouquet of red roses. He presented this to Buffington while also holding a question mark written on cardboard. The pleased Buffington said yes.
During Nest, Shawn Randolph ('13) surprised Raenah Coggins ('13) with an original rap that he wrote. "I was shocked! I knew everyone was getting asked in a big way but I didn't think that anyone would do that for me," explained Coggins. Randolph put on what seemed like a concert based on how big the audience was in Mr. Rivenburg's classroom during Nest. Coggins said, "I was really nervous at the time because all the attention was on me."
Malik Watkins ('13) thought outside the box by using a Build-a-Bear to ask Danielle Baker ('13) to prom. Watkins was waiting in Mr. Rivenburg's room for Baker. "When I walked in the room the lights were off, then he played the penguin with a suit on," said Baker. Watkins had recorded his voice on the stuffed animal. The recording said, "Danny B will you go to prom with me?" Baker told him yes. "I was nervous because when I walked in everyone was staring at me."
The couple Darrell Lewis ('13) and Marcee Osborne ('13) had a more romantic prom proposal. After Lewis got off of work he went to Osborne's house to set up before she got home. "I asked her father for her hand first, and then I got permission to set up," explained Lewis. "I went to her bed and hand picked the rose petals to spell out 'Prom with me?'. Then I surrounded the whole statement with a rose petal heart." "He had rose petals leading to my door with candles around my room. I was so excited and happy, I almost cried," said Osborne.  Lewis spent a lot of time on this making sure everything was perfect. "He was playing our song when he asked me," said Osborne. "I thought he was not going to even ask me." The idea actually came from one of his coworkers. Lewis said, "I wanted to do something special for my boobear, she deserves it."