North Point Athletics Hall of Fame Dinner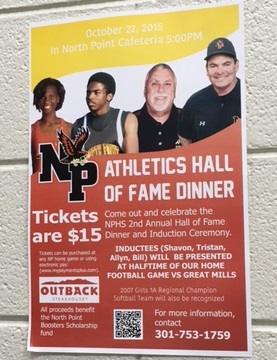 The 2nd annual North Point Athletics Hall of Fame dinner and induction ceremony will be taking place on October 22 in the North Point cafeteria. Sponsored by Outback Steakhouse, you can expect an abundance of food for the guests. This year, the inductees are Shavon Briscoe, Tristan Benton, Allyn Carlson, and Bill Chichester. The inductees will also be presented at halftime during the home football game versus Great Mills. Shavon Briscoe is being recognized for her track and basketball abilities. Tristan Benton is being recognized for his track abilities one being the only SMAC participant to clear 6'10" in the high jump and the "best buy of the Waldorf invitational" according to Athletic.net. Allyn Carlson is being recognized as the first Athletic Booster President. Bill Chichester is being recognized for his coaching abilities as the previous Varsity Baseball head coach. The 2007 Girls 1A Regional Champion Softball Team will also be recognized during the ceremony.
Tickets are 15 dollars and can be purchased at any North Point home game or using electronic pay with <www.mypaymentsplus.com>. This is a great chance for the school and public to come together and recognize these exceptional people.