North Point's First Winter Formal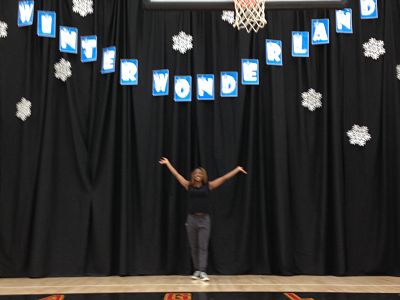 Around one month ago on Saturday, February 27th, the Academic Eagles pulled off the first winter formal (and Sadie Hawkins') dance in the gymnasium from 7:30pm to 11:00pm. The turnout was amazing: over 470 people purchased tickets for $10-$15 (depending on whether or not they used their Flight Card for a discount). Profits also came from concessions, which sold a variety of snacks and drinks, and a coat check by the auditorium. Music was provided by DJ Reddz, from the popular radio station 95.5, and towards the end of the dance, his manager gave free t-shirts to lucky students.
A lot of students enjoyed the dance and were grateful that the Academic Eagles had planned it for them. Ashley Johnson ('17) shared that "the whole set up was nice." Nikyah Barber ('17) also enjoyed it, and said that "the atmosphere was really inviting." In particular, students liked the decorations and the color scheme throughout the gymnasium. There were white lights strung in the bleachers, white and blue balloons scattered across the floor, a blue backdrop for photos, mason jar centerpieces on every table, etc. Right now, the Academic Eagles are working on preparing the Spring Fling as another way to reward students. If you've gotten an invitation, you can RSVP in Ms. Griffin's room today, March 22nd, during the first half of nest; tomorrow, March 23rd, during the first half of nest; and from Tuesday, March 29th to Friday, April 1st, during all of nest. Hopefully, they're planning a winter formal for next year, too!
Special thanks to the Academic Eagles sponsor, Ms. Griffin, and the club's members: Catherina Arter ('18), Celeste Brown ('17), Elizabeth Eaglin ('18), Carsen Essing ('18), Lauryn Hickey ('16), Lindsey Johnson ('17), Lisette LaFontant ('17), Reines Maliksi ('18), Valencia McDowell ('16), Tahjonay McKnight ('17) Terrence Munn ('16), Fiona Quenano ('17), Juli Rosasco ('17), Jessica Spencer ('18), Kelsey Swegle ('18), Elizabeth Varela ('17), Mac Williams ('16), along with faculty members: Mr. Burton, Mrs. Burton, Mr. Deegan, Ms. DeVeny, Mr. Farrell, Mr. Fletcher, Mr. Huffman, Mrs. Huffman, Mr. Miller, Mr. Mitchell, Ms. C. Smith, Ms. Spence, Ms. Stewart, Ms. Trinidad, and Mr. Walker.