Maryland Green Schools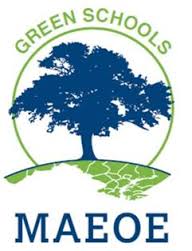 Recently the school has been honored with being a part of the 2016 Maryland Green Schools by the Maryland Association for Environmental and Outdoor Education (MAEOE). To become a part of the 2016 Maryland Green Schools the school had to be "green" in a number of categories while also helping not only the school to be environmentally green, but helping the community too. These categories include environmental issue instruction, professional development, school-wife environmental behavior changes, celebration of green practices, responsible transportation and reduced emissions, health living and learning environments, water conservation and pollution reduction, energy conservation, structures for environmental learning, habitat restoration, solid waste reduction, and community partnerships. MAEOE lists itself as a sustainable school program and recognizes schools that "maintain and improve environmental sustainability" (www.maeoe.org). This honor is very significant to the school because only 20% of the total schools in Maryland are honored with being a Maryland Green School, it is so significant because of the amount of checkpoints the school has to fulfill in order to be considered green.
The NOAA (National Oceanic and Atmospheric Administration) club had a large part in helping the school to earn this honor. The NOAA club, led by Ms. Kiorpes, did various activities from planting trees to teaching students how to be conscious of their carbon footprint. The tree planting contributed positively to the planet because it helps to counteract climate change by decreasing heat and providing oxygen for the earth. The club also raised crabs and trout to study the importance of sustaining the ocean. Ms. Kiorpes said earning this honor was "a team effort, other teachers and clubs helped to make this possible."
Other clubs contributed to the school becoming environmentally green, including the Recycling club, who helps reduce the school's solid waste. Member of the NOAA club, Dorian Brown (17') said, "Being involved in NOAA allows me to get involved with the environment. It allows me to learn how to make a positive impact on the environment. Now is the time to change things with the environment and it is not too late to start now. "Hopefully North Point can continue being a green school by helping to positively contribute to the planet and helping to educate students on how to help save the planet.