Driving into Halloween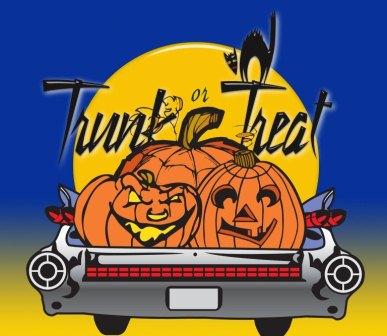 Every year, lots of clubs and organizations of the school come together to provide a little taste of Halloween for local kids, with Trick or Trunk. Some of the participants this year include the choir department, the theater department, criminal justice, automotive design, and culinary. Many more, though, will be setting up cars in the student parking lot, tonight, October 27.
Trick or Trunk has always been about the community and providing a chance for kids to go trick or treating in a safe and fun environment, while also benefitting the school. Liz Nesbit ('17) is one of the students that will be working at the theater department's car. "Trick or Trunk allows kids who maybe are too young to trick or treat in big neighborhoods or don't live in the safest ones to be able to have a trick or treating experience. Also it is something everyone can look forward to and have a lot of fun," said Nesbit, on how this event helps the community. When asked what she finds most fun about Trick or Trunk, Nesbit answered, "I love making the display a lot, but since I never lived in a neighborhood that had trick or treaters, I love to hand out candy and see the kids all dressed up and excited!" Since she is representing the theater department, Nesbit described how Trick or Trunk benefits them. "We use trick or trunk to advertise for the upcoming show, which really helps get kids to come to the show. Not many people think to go see high school shows, but when we give them a little insight to what it is in our display, people really become interested."
Have any little siblings? Know any small children that want to go trick or treating early? If so, definitely come out to Trick or Trunk tonight!