Coming to a Close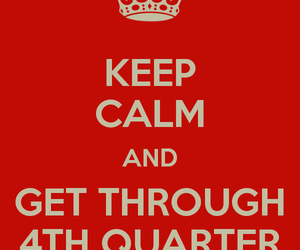 With the fourth quarter having already started, many students are sticking close to the goals they want to reach before the school year officially ends. In many instances, students want to go out with a bang, which means that they are working hard to perfect different areas of their life, including grades and extracurricular activities. "Bettering my grades and working on my drawing skills are at the top of my priorities before I graduate," expressed Brandon Durham (17'). "I also just want to enjoy myself and what's left of senior year. It all went by so fast," Durham continued. Similarly, Trey Washington (17') stated that he wants to get on the high honor roll for fourth quarter. "I always come up short, but I think that if I study a lot and get serious, I can do it," said Washington.
Besides grades, other students are focusing more in other areas of school before the year comes to a halt. "Fourth quarter always goes by so fast. For me personally, I started the year with a keen interest in the visual arts department. I make dresses and am really into fashion, so I decided to take ceramics because I thought I could use my artistic skills in that medium, even though I had no experience. So far, ceramics has been fun, and I have learned a lot. Before I go on to the next chapter in life, I want to make something really cool in that class," shared Callie Maginnis (17'). Also fascinated by the arts department is Taylor Williams (19')—better known by his peers as Scott. "I'm really fascinated by photography and cameras, so before summer break starts, I want to work on some cool projects. Of course, I'll still do photography when I'm out of school, but I want to learn as much as possible before the year is over," Williams explained. Outside of formal classes, students in extracurricular activities hope to achieve as much as they possibly can during the final stretch of the year. "I want to gain as much experience as I can in acting. I still have two more years, so I don't really have to worry about it. I guess every time I do a show, I aim to do my best. There is always room for improvement," stated Asante Maat (19').
Overall, many students are dead set on reaching their goals for the year. "It's the last mile, so why not make it your best? I know I'll be training really hard for football season next year, but as for now, I'm going to work on my grades so that I can get into a good college," added Jonathan Riley (18'). Conclusively, it is in the best interest of every student to work on/get better at what he/she loves doing. The year is coming to an abrupt stop rather quickly, so it makes sense to try to get the best out of it while school is still in session!