Criminal Justice for Just Us
No one would've guessed that one of the most interesting classes within the school dwells underneath the main staircase. This Harry Potter-like classroom belongs to Criminal Justice; an STI program that specializes in teaching students the ins and outs of law enforcement. Students do a variety of different tasks, from crime scene investigation, to combat take-downs, as well as tons of community service. The class is led by Officer Tyner, and she prides herself on the fact that her students are well-trained, responsible people who treat the program as professionally as she does.
The week of a senior in the Criminal Justice program goes as follows: Monday, the students participate in physical training activities. On Tuesdays and Thursdays, classmates complete crime inspections. Wednesday, the students engage in current events discussions and Friday ends with note-taking and a bit of relaxation. Those who engage in the class say that its environment is very rewarding. Senior Ethan Snider said, "Everyone in here is very fun and chill. We have the goofballs of the class as well as the over-participators. But no matter how we use our time, we still get a good education." A fellow senior, Jhanna Maldonado added to this saying, "We're all like a big family. We've spent the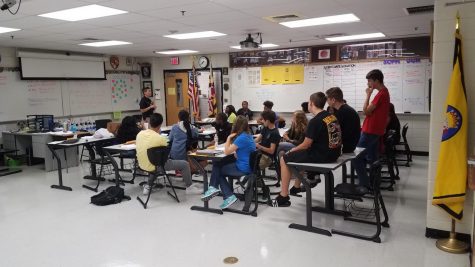 past 3 years growing up and learning together. I will hopefully use everything that I've learned in this class in my future, as I hope to be a Prosecutor in the Air Force or a Judge Advocate." Many others have chosen to pursue a career in the Criminal Justice field as well. Brandon Rodriguez-Theodore, a senior stated, "The experience that I've gained in this class has led me to work towards a psychology aspect of law enforcement. I one-day hope to become a criminal behaviorist and better understand the mind of a perp."
The people who are in the program seem to enjoy it, and they also highly recommend that others take the class as well. Senior, Jada Odom recited, "You should take the class if you wish to gain some actually helpful knowledge. Not only do we learn law enforcement skills, but we also learn really useful life skills." Another senior, Michael McCloskey commented, "Be prepared, it's a lot of work. However, this is a class that allows us to give back. We partake in community service all the time and it feels great to help others. If you are interested in bettering yourself, this is a program that I'm sure you would like." Community service plays a big part in Criminal Justice. They have a variety of volunteering activities such as Explorers (associated with Boy Scouts), McGruff & Scruff, Cops on Rooftops, as well as providing help with the Charles County Fair and graduation ceremonies. The program also provides internship opportunities, that take them away second half of NEST, in the form of mall security positions, patrol jobs and even courthouse work.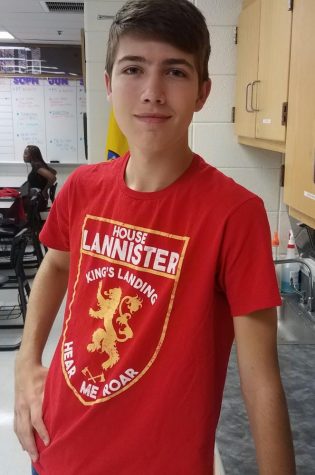 Beyond the classroom, the Criminal Justice program contains other benefits, like an official uniform, CPR certification and "combat" training. Members of the program may participate in SkillsUSA, which is a competition against other CJ programs at other schools, where students must respond to an inspection or law enforcement scenario and get graded on how well they followed procedures. After school, the students also manage a CSI club, which is practice on a mock crime scene and what needs to be done. Logan Steele, a senior stated, "I believe a difference can be made with our generation and this program is a good way to do so. Because of this class, I will be able to help on a larger scale." Steele concluded, "However, the most important thing about this program is integrity. If you don't have it, do not even bother signing up because you will not succeed without it."
The Criminal Justice STI is one of complexity and hard work. The person who runs the class, Officer Tyner said it best with, "What you put into this program is what you'll get out of it." The students are passionate about what they're doing and they want those who are interested in the program to know that even though the class doesn't come easy at all, it is rewarding to participate in and an experience that stays with you.