Love, Live, & Serve: The NPSN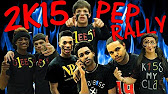 2015 was an astronomical year for North Point. During that school year the spirit group NPSN was born. The school was indulged in spirit. The group was not only known throughout the halls, but throughout the entire world, as the group's twitter domain was trending worldwide on numerous occasions after special events. The twitter domain gets handed down each year to an upcoming senior as a tradition now, and the group consists of new seniors as well. The group is still doing things and making their presence felt, but the 2015 NPSN was an undeniable presence.
Numerous big events that happened during this period were filmed and edited, then posted to YouTube, like the pep rally, the SMAC championship game, and other NPSN related events. The YouTube account that posted such events still holds and produces very entertaining content. I remember seeing the account as a freshman with only 1,000 subscribers. That same page has recently just hit 1 million subscribers.
It is a prestigious goal to hit when being a social media platform entrepreneur. North Point graduate Noah Taitano films and edits the videos, while his partner Ryan Burton, a La Plata graduate, fills the role of anchor for the channel. They've reached this milestone by doing such things as comedy skits, public pranks, and even funny reaction videos. They've already received an award for 100,000 subscribers, and that is the silver YouTube play button. They will be awarded the gold YouTube play button for reaching 1 million subscribers. 
Noah has still kept up with NPSN, interacting via twitter. "Keep up the good work and keep the school spirit alive" Taitano says. This is only the fourth season of NPSN, but the tradition will be passed on throughout many years to come. Don't forget to show up and show out during the upcoming winter sports season. NPSN will be there and in full effect.