Charles County's Student of the Year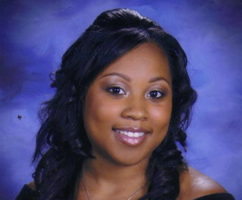 Bria Page ('10) was shocked when she first found out that she was Charles County's Student of the Year. 
"It came as a surprise to me because I didn't know until they had finally announced it," explained the ambitious sixteen-year-old. "I felt accomplished from all the hard work and effort that I put in."
The process took a lot of time and effort for the participants. Students had to be nominated by their employers through the Co-op program; a class that prepares students for the workplace.
The application process consisted of three interviews with a panel of interviewers. During the first interview, two students from each high school had to market themselves through print by presenting a portfolio and a resume. The Board then chose one student from each school until they finally narrowed it down to just on student out of all seven  high schools.
Page won a $1000 scholarship through the program. "The rewarding feeling of claiming this title is worth the hard work," asses the North Point senior who currently works as an Office Automation Clerk and Info Manager at the Air National Guard Bureau.
Page plans to attend Rochester Institute of Technology in the fall to major in Criminal Justice and minor in Spanish. For future recipients of the title, Page advises students to, "Be safe, stay motivated, and work hard."