Introducing Mrs. Harvard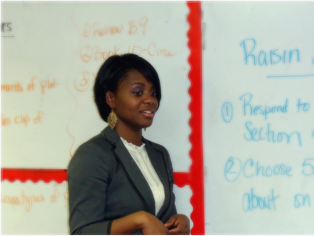 Mrs. Harvard is a daring and expressive teacher. Who knows how to push her students to reach their full potential and always going the extra mile to make sure her students know and understand the material?
Born and raised in New Jersey, Mrs. Harvard knew that she wanted to have a job that dealt with teaching children. She said "a teacher in high school named Mrs. Marshall has really helped me reach my full potential."
Even though Harvard is an English teacher, English was not her favorite subject. She enjoyed math and was very interested into politics.
When teaching her class Mrs. Harvard she makes sure that every student understands what there doing or reading. She explains everything in details for her students.
Mrs. Harvard teaches eager kids at school and goes home after a long days work to care for her two year old son Christian Gavin Harvard. "I like going home to my son because he thinks that I am just the best person in the world," says Mrs. Harvard "He loves it when I read to him as well".
One of Mrs. Harvard's biggest accomplishments was becoming a mother and being able to hold her son in her arms for the very first time. It was a wonderful experience for Mrs. Harvard and something she will remember and cherish for the rest of her life.
"I enjoy teaching and I feel like I am affecting people's lives little by little each day" Mrs. Harvard added. With her tight and hectic schedule Mrs. Harvard laughs when asked what she does in her spare time.
Whether she's teaching a class or spending time with her son, Harvard is always positive and makes a huge impact on her students and family.