"Most Artistic" Dominique Alston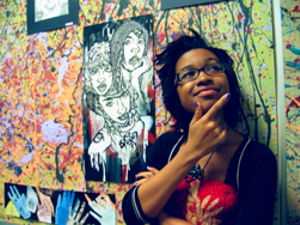 "I didn't really take into account people's compliments [about my artwork] until eighth grade when I started looking at this book called Graffiti World by Nicholas Ganz," recalls Dominique Alston ('10), a self-described varied artist. Since then, Alston has taken tremendous strides in her art career. Besides recently sending off her AP Studio Art portfolio to College Board, she got voted "Most Artistic" by the senior class, won recognition for her artwork at local art shows, and even had a short stint as a freelance graphic designer.
                Alston's art is as unique as her personality. While her style "doesn't necessarily match", she lists underground genres such as dubstep and drum and bass (DnB) as current favorites. Her artwork reflects the urban culture that influences her. Utilizing a myriad of different mediums, such as spray paint, acrylic paint, newspaper, wood stains, and Photoshop (image editing software), Alston has created stunning pieces that feature subjects boldly outlined in black, with intricate layers on the canvas.
           When asked about local art events, Alston's volume rises and her hands become more animated. "About twice a month, I go to an Art Whino event. Art Whino is a really awesome place at the [National] Harbor," Alston responds. "You should go!" Alston then went on to list Charles County festivals and the Mattawoman Art Creek as local favorites.
          Though Alston is adamant about art, she has a mature attitude when it comes to pursuing a career in it. With her freelance graphic design experience, she has learned that the independent nature of the job has its' pros and cons. "You get to work on your own time and set different kind of pay rates, but also, you're a lot more out there, like doing the work by yourself," Alston explains. "You're dealing directly with the customer."
         The same realistic attitude was applied to her college decision. Instead of enrolling in a traditional art school, Alston will be majoring in graphic design at Towson University in the fall. "If I decide to change my major, which I hope I'm not, I can always stay at a school where I know I can choose something else," explains Alston.
         On her left arm, there is a beautiful tattoo of a koi fish. "I basically got it because they stand for determination, perseverance. 'Cause you know, you're going to college on your own," remarks Alston. Determination and perseverance should be on short list of worries – with her artistic style and realistic attitude, she should be just fine.