A Farewell to New Beginnings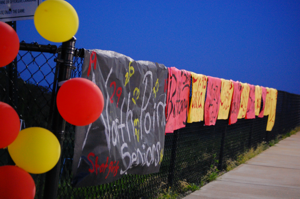 "Days left," a phrase that accompanies a number decreasing day by day as we, seniors prepare to leave.
   It will be over some people say, a chapter closed in life. Finding the words to describe this epic event has brought me and my fellow classmates to tears.
   We reflect on the years past, some of us have four years of memories and others five but great memories none the less.
   Walking through the door to orientation of my eighth grade year, we didn't have a stadium, our athletics teams played at county parks, the building felt huge and the school had a fresh air that you couldn't quite figure out. Over the course of that year we built a stadium, not just one you played in but one our family gathered in, our brothers and sisters argued and laughed with us in, and we had spirit in.
   The building grew close to me over the course of five years here at North Point; it took me one year to figure out my direction, it took two years to feel comfortable, it took three years to find my place, it took me four years to fully travel it and see every classroom, but it took five years to see it was home.
   Many people found many things here at North Point from their first love to their true passion in life. At first I did not see the gift we were given with this school. But, as time went on, my eyes were open to the windows of opportunity, they were rid of their curtains and the light shined down upon me.
  I saw the sparks in our science labs, the precision in our technical classrooms, the passion in our art rooms, the beauty in our music rooms and the light in our classrooms. We were gifted with a lot more than a great school, but the minds and people inside were the real gift.
   I find many people gasp in awe at our future graduates, their diversity, there academics, but most of all their involvement. We can do anything we want to do; we have all the tools to do what we want to do, and we make it happen. I know that the class of 2010 will soar high like the eagles we are, I hope that all future classes come to realize they can too and that they have been given the gift I feel we have been given.
   I've found out the fresh air senior year and that is the spirit that has come alive at all events. This spirit lives in the North Point family that continues to live and grow.
  This North Point family we have here is unique, spirited and diverse. Without those characteristics we are nothing but with them we became everything. I would like to thank everyone that has believed in us throughout the years and all that will believe in future classes.