Meet Ms. Godfrey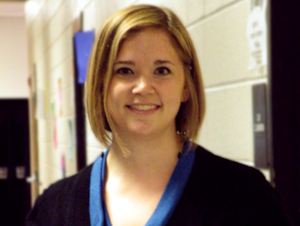 Ms. Godfrey stands outside of her class room with a smile and cup of coffee.
She runs a fun class, few can resist her infectious and bubbly personality. It's no wonder even her graduated students come and visit her regularly.
Torn between choosing a career in singing, dancing, and teaching, we are glad that Ms. Godfrey made the daring decision to pursue teaching. Even though she will never know what would have happened if she chose differently; she has never looked back.
From the small town of Perry, Ohio, Ms. Godfrey, a great math student, felt that sometimes teachers had let her down. She would often get frustrated when students didn't understand math because of their teachers. That is when she got the epiphany… she could do a better job than those teachers.
Now, every day, with a cup of coffee at hand, she teaches Algebra II and Geometry Concepts to tons of North Pointers.
"I have had them all" she says when describing her variety of students. She admits it does get hard when her student don't want to learn but that does not stop her.
When teaching, Ms. Godfrey gets to the heart of the problem. She individually works with students and makes sure they get plenty of practice.
She feels an immense amount of satisfaction when a student learns something new. But the students are not the only ones learning. Her experience as a teacher is evolving and ever changing. Everyday, she learns new things; from teaching styles to weird, cool, and interesting facts.
Other than teaching, Ms. Godfrey loves singing, reading, hanging with friends, and when the weather is good – the beach. In the little spare time she has, she enjoys shopping.
No matter who you ask, it is undeniable that Ms Godfrey's friendly, positive, and determined personality always shines through when she is teaching.