Vice Principal, Mrs. Akins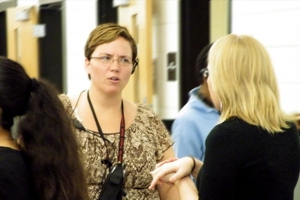 As we come into the school year, we see many new faces but we also recognize old ones. A familiar face recognized, especially to the class of 2013, is last year's Assistant Administrator, Mrs. Akins.
Akins will continue to work with the Class of 2013 as their new Vice Principal. When asked about the new position, Akins stated, "When the opportunity came up, I was excited for the chance to continue with the class."
Akins was born and raised near York, Pennsylvania. In high school, she was shy and not exactly the leader type. "College was when I really broke out of my shell and discovered my true talents," said Akins.
Akins first started her teaching career at Manassas Park, Virginia where she taught summer school and then night and tenth grade English. She jumped right in and enjoyed working with kids. After teaching in Virgina for three years, she moved to Charles County when North Point opened and taught English here. In 2009, she became an assistant administrator and is now Vice Principal.
"I am really excited to stay here at North Point with the class of 2013," Akins commented about her new position. Her daily routine mostly consists of talking to students about problems they might have, talking to teachers, or other administrators, helping the principal, and doing everything she can do to ensure students receive a good education.
When she takes a break from her roles at North Point, she enjoys playing soccer, crafting, reading, and taking care of her six year-old daughter and three year-old son.
"Mrs. Akins has a kind of spunk for an adult in the school. You can tell from entering her office, with all of her decorations and gewgaws. She is the type of adult in the school you can have a high level of respect for," said Gaston Lopez.
For the class of 2013, Akins looks forward to seeing them grow and mature over the years. She feels that the class is a talented and diverse group of students with a lot of potential and she is glad that she will continue to work with them. "What I think that it is really important for students to know is that everyone here really cares about how well they do."