Fresh Crops: Mr. Lilly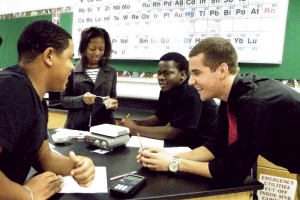 Word around the block is that a pretty cool chemistry teacher now reigns in Ms. Garner's old classroom. He's easygoing and friendly; and has a slight twang in his voice that tells on him, a little soul in his speech that says he's from some Western city or Southern county. His name? Mr. Lilly.
Using dialect to predict his hometown proves useful. "I am from Western Pennsylvania, near the Pittsburgh area, [from] a small little town called Grove City." Mr. Lilly earned his teaching degree at Grove City College, a small institution close to home so he could help out with the family. As the oldest of a large brood, being available to help his family was important. "I'm one of seven children in my family—so I have one twin brother, and then I got two other brothers and three other sisters."
After graduating, Mr. Lilly toiled through the experience almost every aspiring teacher has to go through—substitute teaching. "That was a little bit of a nightmare. It was an experience, I'll tell you that. It's nice to have my own classroom." As a substitute, Mr. Lilly dealt with everything from overexcited kids to angst-y misfits just trying to start a problem. But he handled it all with grace and ease.
Despite predicaments like the one above, Mr. Lilly didn't let his substituting experiences get him down. He still searched for a permanent position as a teacher. "After I graduated college I was looking for a job in western PA. It didn't work out, so I came to a job fair down in Baltimore and one of the recruiters remembered me and called me up halfway through the summer." That phone call eventually led to an interview with Mrs. Hill, and thus goes the story of how he ended up teaching chemistry at North Point.
Mr. Lilly truly enjoys the subject he teaches. "I like science because it involves a lot of problem-solving, and it could be anywhere from something that's outrageously complex, to something that's real simple and happens in everyday life… I love all the applications that it has."
Being an effectual teacher is not all that Mr. Lilly aspires to. "I can see myself doing a lot of things in this life. I would love to be a guidance counselor. I really would. Whatever I do, I want to stick with kids." He's also speculating one day going back to school and becoming a pediatric nurse.
For now, there are plenty of things to keep him anchored at North Point.
"Everything is just so beautiful, so new," he breathes. He loves seeing so many smiling faces at school. "It's hard to walk in this school having a bad day, 'cause it'll change like that," he notes, making an emphasis with a snap of his fingers. "You talk to anyone and it's like, 'Hi, how ya doin'?' 'Good, you know, I'm havin' a good day,' a smile on their face. The kids are great—so for those reasons it is wonderful to be here."
Mr. Lilly's high school/college experiences were a little different, but Mr. Lilly enjoys the characteristics apparent in North Point's community. "I love how there's so many resources; I love how big it is. I grew up where everything was so small, coming here, just the sheer size, like—there's more kids here than went to my college," he says animatedly.
While in high school, Mr. Lilly was fairly active in sports and still enjoys watching and playing sports now. So of course, he has his own two cents to add to North Point's huge circle of NFL fans. "I was born in Philly, so [my favorite football team] is the Eagles, and not the Steelers." Whammy to Ms. Stewart!
Mr. Lilly offers a final tidbit about himself that seems worthy to mention. "Yeah, my favorite candy is Reese's," he says with a nod. (Perhaps those who aren't the most talented in chemistry should take note of this.) "So if anyone wants to know, or anything like that, that's my favorite," he laughs. "If you want to know anything else, come ask, I'd love to tell ya."
So for those who have yet to meet Mr. Lilly, there's plenty of time to get around to room 2334 to acquaint yourself with him—this Reese's-lovin' guy will be around for a while.
In addition to Mr. Lilly and Mr. Labelle, North Point would also like to welcome Mr. Shaffer, Ms. Andy, Mr. Brown, Mr. Raymond, Mr. Carpenter, Ms. Morris, Mr. Gray, Ms. Koenig, Ms. Russell, Ms. Watts, Ms. D'Alberto-Klusek, and Mr. Oliver.