North Point Gambles and Loses it All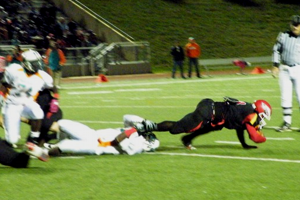 On October 15, a blistering cold Friday night, fans poured into Eagle stadium
to watch the game they had been waiting for all season long, a powerhouse showdown
between the North Point Eagles varsity football team and their rivals the Westlake
Wolverines. North Point' s 6-0 record gave them the confidence that they' d come out on
top once again. However, their loss, 27-26, made it clear that they little more work to if
they want another SMAC title.
" Who would have ever expected that outcome?" pondered, school band
saxophone player, Trey Lyles (' 11)
" It was a hard fought game. We know what we have to improve on so we can
move forward into the playoffs, " proposed Cliff McManus (' 11).
Both SMAC teams started off strong but within the first few minutes of the game
Westlake took the lead, 13-0. The wind was a sever factor in the game, making extra
points for kicking tough for both teams to gain. Before the Wolverines were able to settle
in into the two touchdown lead, North Point' s Ja' wan Poole broke a crushing run for a
touchdown, running over all opposition in his path. This set up a first quarter score of 13-
6.
North Point' s, Ja' wan Poole continued to pull his team forward him with a 45
yard passing touchdown then a receiving touchdown, and great supporting tackles by
Anthony Zosack. North Point entered the fourth quarter tied 20-20. Even with North
Point' s spectacular performance on offense, the defense just couldn' t get their head in
game allowing Westlake to score again and again, presenting North Point their first loss.
" The game was a lot of fun!" Shared excited fan, Kiki Griffith (' 11) " The loss
isn' t a setback; it' s a lesson for improvement."
The game ended with a score of 27-26. North Point' s fans were devastated by the
loss to big time rival Westlake, but they are staying loyal to their team.
" North Point started off slow but then they stepped up their game and held it
down. Unfortunately at the last minute they lost by one point, but they are still the best!"
said die-hard fan Courtney Cox (' 13).
North point and Westlake are now tied to a 6-1 record. There are only a few more
games left in the fall season, leaving a nagging question lingering in the air: Who will be
going to SMAC?
[nggallery id=37]