Meet Col. Brown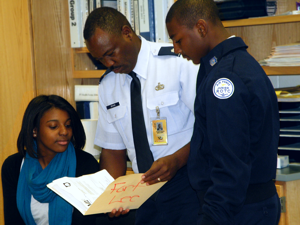 This week, we're taking the time to highlight those at North Point who have contributed
to American Freedom. There happens to be several people walking through North
Point's halls who fit the bill, but the standout among them all is AFJROTC instructor Col.
Brown. Take the time to read below and get to know him a little better!
How long did you serve in the military? What did you do in the military?

"I retired from the Air Force in 2007 and I was in for almost 24 years. My job in
the Air Force was a communications officer. I worked on computer systems and
communication systems."
Was there anyone in your family who served in the military? Did they influence your
decision to enlist?
"My father was in the army for 20+ years and my only older brother was in the army for
over 20 years. I think that would be a good assessment; that they inspired me to join the
military."
Did you take ROTC in high school?
"Yes. I actually did Army ROTC in high school and Air Force ROTC in college."
Are any of your children considering the military?
"None of my kids want to be in the military. The way I see it, kids either love the
military or don't like it. They [my kids] appreciate it but it's tough because they have to
move a lot."
You're career has taken you all over the globe. How did you end up settling in the
Washington D.C. area?
"This area has always been our home. I met my wife here. My oldest was born here.
We'd always come back to visit here."
Did you move often as a military child?
"I did not. My dad was in the military during the Vietnam era. My mom made the
decision not to travel with him, and he came home as frequently as he could."
So where are you originally from?
"I'm from Rolling Fork, Mississippi."
Where did you go to college?
"I graduated from Mississippi Valley State in 1984 with a degree in Computer
Science. I took ROTC in college and once I graduated they made me an officer—2nd Lieutenant."
Where were you stationed when you first joined the military?
"My 1st assignment was at the Pentagon, then Ramstein, Germany. I got to travel to
Italy, England, and Czech Slovakia."
Are you still friends with any of the people you've met overseas?
"You meet so many people in the military…it's one of the best parts of being in the
military because you create bonds across the world and you make friends in those
places, lifelong friends. So yes."
What does being in the military mean to you?
"I have had to think about it a lot lately with the death of a cadet. It makes you
pause…It's a really proud feeling, especially if you think of the role the military has in
our government. We serve to protect the freedoms of people in our country, the freedom
of democracy in our country. It gives you a really proud feeling knowing the role you
play in the democracy of our country."
What grades do you teach here at North Point?
"I teach 9th-12th, all the grades. There are three instructors and we rotate. So this
quarter I'm teaching 1st flight, next quarter it'll be 3rd and 4th flight, 2nd flight, and then
back with 1st flight."
What are some ways that our ROTC program encourages leadership?
"Many aspects of ROTC are run by students. There's a #1 student in the cadet
core—the cadet core commander. The longer you stay in the program, the more you
move up, the more leadership opportunities."
What do you feel is the purpose of AFJROTC programs?
"The goal of ROTC is to build better citizens for America. We teach students how to
improve themselves. We teach leadership development, responsibility, the Air Force
core values—integrity, service before self, and excellence in all we do. We try to instill
that in every individual."
Col. Brown has worked hard to exemplify those same values in his life and career; so
be sure to thank him, Col. Ray, and Sgt. Hartfield for their contributions to American
Freedom and to the North Point ROTC program this week!