Mrs. Stocks, Administrative Assistant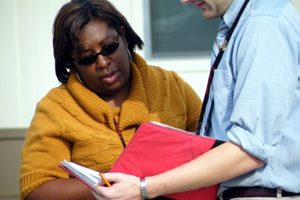 Since North Point opened five years ago, Mrs. Stocks has worked as a guidance counselor, but this school year she's been promoted to the position of Administrative Assistant.
"It's like Vice Principal-in training," Mrs. Stocks explains. "For the position I'm in now, I have half of the 9th grade, L-Z, and I have other duties." Many students had yet to hear of her new position. So when seniors met with their respective guidance counselors last month, some looked on with a frown when they stepped inside Mrs. Stocks' old office and noticed that the walls were bare. The office just smelled like…office. And a new, unfamiliar face sat behind her desk.
But all was salvaged when this new face explained that Mrs. Stocks had gotten a promotion, and had simply moved across campus. In her new office out in the modules, all was as it should've been. The walls were restored back to their former glory, with certificates and photographs all around. Several lamps are used to the light the room instead of the one garish light overhead. A homey fragrance wafts through the office, and Norah Jones plays from a speaker somewhere in the background. This was definitely Mrs. Stock's office.
As Administrative Assistant Mrs. Stocks gets a more spacious office, since she now has more responsibilities. "I'm in charge of fundraising and SST [Student Support Team], a committee that students get referred to if they're having difficulties," Mrs. Stocks said. "I'm trying to get to know [the students] so when the time comes for reprimand, there's no problem."
Mrs. Stocks knows from her years as a counselor that getting to know her students is essential to doing her job well. Before she worked here at North Point, she'd been a middle school guidance counselor. "I've been a counselor for five years here, nine years in total. I was at Stoddert for two years; and prior to that I was in Frederick County, at Governor Thomas Johnson Middle School."
At some point over the years, the idea of becoming an administrator became increasingly attractive to Mrs. Stocks. So she searched for the means of breaking into the field, taking classes and being observant of the administrators around her. "I've been wanting to go into administration for probably two years now," she confides. It's been said that the best way to reach a goal is to prepare for the opportunity and then seize it; and that's just what Mrs. Stocks' did. "I've been taking classes to get certification in administration; and when the job opportunity came, I applied and then interviewed and—here I am," she responds with a smile.
Now that she is here, new badge, new office and all, it's a wonder how some kids will take to her in her new position of authority. But she's up for any challenge, though she doesn't expect any to come. "I guess I expect that for the kids that I know, it'll be great, even if I'm disciplining them," she says. "For those I don't know, it's just a matter of building a report with them. That's key." Mrs. Stocks' looks upon her new job with enthusiasm, a characteristic that the best instructors—teachers, administrators, or otherwise—have always had.
Good luck Mrs. Stocks and congratulations in your new position!