Meet Mr. Lee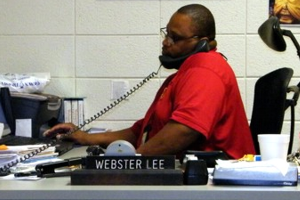 At 7:50 AM, students flood the doors of North Point High School. They are welcomed by fresh shrubbery, waxed floors, open classrooms, and tidy bathrooms. As one of the newest schools in Charles County, North Point's students, staff, and faculty want to keep it looking it's best for many more years to come.
Building service manager, Mr. Lee does all he can to ensure North Point is a clean and safe environment for all the teachers and students who inhabit it before, during and after school hours. "I took this job because I've been doing it for 20 plus years. When the opportunity came up I wanted the challenge," he shared.
Lee's clattering keys can first be heard echoing through the hallways at 5 AM. Making sure that everything is secure, in working order, and in place. Things can be pretty unpredictable with hundreds of people roaming the school building.
Throughout the day he wears many other 'hats', constantly switching them out as different problems come to his attention. At 3:30 PM, Lee heads home to prepare for another day, already expecting the unexpected. "I deal a lot with the ventilation; the A/C and heating units. I also make sure that the grounds are kept up with," he added.
With an extended list of things to do, it's a wonder how Lee always keeps a cheery mood and a smile on his face. Lee explains that even though his job is demanding, there is no part of it that he doesn't like doing. Although he admitted that he sometimes gets stressed out, he tries not to let it get to him.
"I enjoy all of it. I like seeing students ready to learn. I love waking up every morning and coming to work. I like the way the staff and students treat us. The most rewarding part is just seeing the smiles on everyone's face when they walk through the door," Lee said.
In his spare time Lee enjoys working in his yard, completing household projects, "…and watching football, of course," he added.