The "Wonderful" Mrs. Dutrow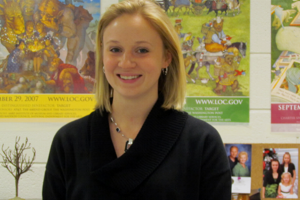 Sitting in her classroom, munching a lunch of noodles and peppermint Hershey's Kisses, Mrs. Dutrow smiles as she recalls her first days as a teacher. "When I was sixteen, I started teaching ballet to sixth graders. I fell in love with working with kids," she recalled. This love has stayed with Dutrow since, as she completes her sixth year of teaching English here at North Point.
Dutrow's decision in picking a subject area was easy. "I was always good at English and scored well on my essays and tests," she said. "I love reading and I want to instill that love of reading into students," she continued, mentioning that the book that started this lifelong affinity was Matilda by Roald Dahl, the story of an extraordinary girl in an ordinary family. "I read all of (Dahl's) books in elementary school."
From her colleagues and students, a pristine portrait of Mrs. Dutrow is painted. "(She is) a wonderful teacher because she truly cares about her students and she works very hard to keep her classroom fun and interesting," said Mrs. C. Smith, head of the English Department. "She's wonderful…truly wonderful."
Kiersten Rawson ('13) concurred, explaining that she enjoys the amount of give and take that Dutrow includes in her English class. "We're never really doing silent work. She doesn't keep us sitting at our desks all class; we're up and moving around," she stated. "I have fun in that class." Rawson went on to cite the lightheartedness of her teacher in completing normally mundane tasks, such as going over the daily grammar practice, and engaging in good-humored banter with the members of her classroom.
Members of the North Point community are also quick to make note of Dutrow's zeal for teaching. "She really seems to like what she does", said Mrs. Griffin, a math teacher. "Enthusiastic", "fun loving", "energetic", "pumped up", and "always excited" were other words used to describe her.
Despite her appearance, Dutrow isn't all about books and English tests. She's also a huge fan of heavy metal music, with her favorite acts being Killswitch Engage. She and her husband, Mr. Dutrow, a History teacher at North Point, go to Mayhem Festival and Warped Tour every year. She laughed as she recalled shouts of "Mrs. Dutrow!" from the students she has run into at the music festivals. In addition to teaching, Dutrow utilizes her dance skills to sponsor the Tap Club with Mrs. Godfrey.
Since she started teaching at North Point when it first opened, Dutrow has had the pleasure of watching her seventh grade students grow into seniors. "It has been amazing; some of them stay the same, but some of them change so drastically." Over the past six years, Dutrow, who hails from a small town in northeastern Ohio, has grown to love the Waldorf community. "When Mr.Dutrow and I moved here, we left our family behind, but the people we've met here are like our family." The Dutrows intend to stay, and thrive, here for many years and classes to come.