Realizing the Cost of a Dream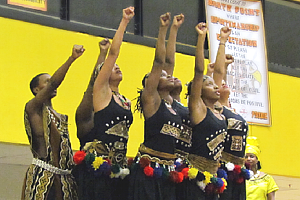 On Monday, January 17th, the Charles County Branch of the NAACP and the Nu Zeta Omega Chapter, Alpha Kappa Alpha Sorority, Inc. hosted the 16th Annual Martin Luther King Jr. Prayer Breakfast at North Point High School. Several hundred people attended to honor Dr. King's birthday, including a number of local elected officials and community leaders.
North Point's students and staff also took part in the event. Volunteers from the National Honor Society, the JROTC, and the Criminal Justice and Culinary Arts programs gave up their day off to prepare and cater the breakfast for guests at the event.
"Many don't realize that today is a day of service," stated Guidance Counselor, Mrs. Quirk. "I'm very pleased to see so many students giving back to their community."
Charles County Commissioner and Mistress of Ceremonies, Debra Davis, acknowledged the North Point High School staff who worked hard on the event, including Mrs. Hill, Culinary Arts Teacher Mrs. Jones, Events Coordinator Mrs. Dye, and especially the student volunteers.
[nggallery id=61]