Students Give Underprivileged Children Sweet Dreams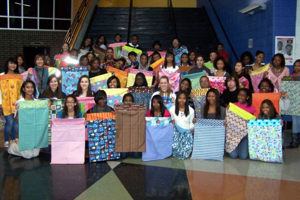 With Valentine's Day on the mind, everyone's trying to spread some love or get some love. Usually all attention is paid to Cupid's realm of Valentine's day—everyone's giving their special someone the little boxes of chocolate, or offering their best friends cutesy valentines.
But this year, Mrs. Huffman's fashion tech and design classes decided to focus on the other aspect of this holiday. They're spreading love this year by volunteering to make pillowcases for disadvantaged children.
All six of Mrs. Huffman's fashion tech/design classes have spent the last month and a half making pillowcases to send to the homeless and to children with cancer. Combined with the number students in sewing club who also helped, over 100 North Point students participated.
Fashion tech student Tatiana Carter ('11) was among that group. "We were in class, and it was close to Christmas when she told us that we could make pillowcases for ourselves and some for extra credit," Carter explains. The pillowcases sewn for extra credit would go to designated charities when the project was finished. "I made one for myself and three for extra credit. Ever since I was little I wanted to do anything I could to help the homeless, so when she told us I thought, 'of course I'll make extra pillow cases.'
Half of the pillowcases will go to Lifestyles, an organization in La Plata that offers assistance to the homeless. "They care for them when they're homeless and help them to transition back into the workforce," Mrs. Huffman explains. Most of these pillowcases will go to homeless children. "[It's] just something that's cheerful for them. It's their own at a time when they don't have a lot."
The other half of the pillowcases will go to a pediatric oncology center in Annapolis. "So when these children are fighting cancer it's just something to help them," she says. Through and through, the pillowcases were an exercise of encouragement; made in the hopes that these children could be encouraged by the colorful outlines and shapes for the pillowcases.
Students tailored the pillowcases to their liking, using everything from striped and polka dot patterns to Flintstone themes to decorate them. "I did two of them. I just put cool pillowcase designs like spaceships and stuff," says junior Bryce Fugitt ('12). But of course, it's not the actual designs, but the thought behind them that will encourage these children.
Fashion tech student Amber Woods ('13) says she really does feel for homeless people. "A lot of them are just like me. If I was on the street I would want somebody to help me," she relates. "I love giving and giving back to the community."
Woods feels that all of the children will feel grateful when they receive their pillowcases. "They'll think that 'people think about me, I'm still important.' That there are still caring people out there."
One person that the children would probably think of as caring is fashion tech student Nerissa Lumban ('11), who made four pillowcases to give to the charities. "[Homelessness] it's a bad situation to be in; just a really sad thought," she comments. "I think it'll give them a sense of joy just to know that someone's trying to help them."
Mrs. Huffman definitely makes sure to take the time to do something like this for students to get involved in every school year. "I always like to do something where we have the opportunity to give. But [this] also stems from a national project, where quilters are trying to give a million pillowcases to children in need in the U.S."
Students didn't have to be in fashion tech/design or sewing club to contribute to the project. Others got involved with the project by donating fabric or money for fabric. "All of it [the fabric] was donated in one way or another. Our biggest donation came from the senior class, they gave us $500," Mrs. Huffman says with a smile. "I went to Material Girls to purchase fabric, and when they heard about it they gave us all of our fabric for half off, which doubled how far the money went."
With over 200 pillowcases made, the donations were very much utilized and appreciated. The pillowcases will be sent to Lifestyles and the oncology center in the next week or two, and hopefully the children will be able to sleep soundly knowing that someone in the North Point community was thinking of them this Valentine's Day.