Eagle on the Street: What Does Diversity Mean to You?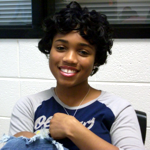 Anna Taitano, Arts & Entertainment Editor
February 27, 2011
Race, hair color, ethnicity, families, hobbies, all of which can be different. Whether we are at a game, in the store or at the mall, we see diversity in everything and everywhere we go. Even here at North Point we have several diverse clubs, sports, classes, and students. Diversity is not only differences, but it also lets everyone express who they really are, and have the chance to show others as well. With all these different opportunities handed to us, we want to know, what does diversity mean to a North Point student?