Meet Madame McLaughlin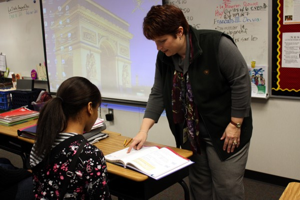 The clock strikes 7:40 A.M. and teachers rush through the hallways to get to their classrooms. In a classroom, a teacher sits at her desk, sending out a few last minute emails. She is surrounded by piles of texts books, folders full of lesson plans, and stacks of ungraded papers. As the 7:50 A.M. bell rings she sits back and thinks about the day she has ahead of her.
She knows there will be a student who turns in a blank worksheet, a student who will continually ask for help during the review session, a student who she will have to give a referral and a student who will gloat about the A they received on their last test. And yet, even after weighing the pros and cons of her job, when the 8:10 A.M. bell rings she takes her place in front of the classroom, greeting her students with a smile and a hearty "Bonjour!"
"I like teaching because I get to make a difference. I get to help people." I always say I'm doing the two things I love and get paid to do them. I like helping people and I like speaking French," said French teacher Mrs. McLaughlin.
Madame McLaughlin can be seen walking the halls even before 7:40 A.M., getting a head start on the day she has ahead of her. She is not new to North Point, nor is she a rookie in the field of education, and yet she has caught our attention. She began teaching in 1988 and this year marks her 22nd year.
In 7th grade, she started taking French classes and fell in love with the language, but she never limited herself. She shared that she has also taught psychology & sociology, Spanish and German. However, French was the subject she chose to stick with.
She begins explaining what made her want to become a French teacher. "I wanted to keep my language and my father was a teacher so it seemed liked the thing to do. Education actually wasn't my major in college but I like teaching because I get to make a difference. I get to help people. I always say I'm doing the two things I love and get paid to do them. I like helping people and I like speaking French."
We then shifted the conversation towards the act of teaching as whole. When asked what she believed made a good teacher she has this to say: "It's someone who sees their students' needs and meets them where they are, they write student centered lesson plans and avoids having no interaction with their class."
Madame's presence in the classroom is proof that she stands by what she believes. She is the perfect example of an effective teacher. With her creative lesson plans, she strives to get through to her students by meeting them where they are and gradually moving them forward instead of dragging them to where she knows they're not ready to go.
"My favorite part of teaching is interacting with the students. When I see the kids speak French without my asking. When it's snowing outside and the kids run down the hall screaming "Il neige, madame!" (Madame, it's snowing!), it's amazing," she said
Her teaching style is interactive and exploratory. Think of a question being answered with another question. To some students that could be frustrating but to Madame it's enjoyable trying to get them to figure it out for themselves. She believes she is a good teacher but knows that there is always room for improvement.
"I like seeing students succeed. When that light bulb comes on I know I've done my job," She said. "I just wish I could get papers back the very next class. I don't grade papers quickly enough because I like to be thorough but it takes too long."
With her extended list of things to do as a teacher, it's a wonder how Madame always keeps a cheery mood and a smile on her face. When asked the question, she explained that, there are parts of her job that she doesn't like dealing with and although she admitted that she sometimes gets stressed out, she tries not to let it get to him by simply laughing it off.
"I don't like dealing with the politics." She explains. "It seems like politicians make educational plans without asking input from educators of students. It's not effective. I deal with it through humor."
Though teaching is very important to her, there are a few things Madame enjoys doing in her spare time that is the icing on the cake. She likes making scrapbooks and quilts, playing video games with her husband, and recruiting people to Relay for Life.
"I'm also a part of a medieval recreation organization!" She said.
Madame McLaughlin is a great example of what an effective teacher is. She explained that every time she tries to get out of the field and try something new, she can't.
"Nothing else interests me." She said. "Nothing else is as fun as this."
She continues to inspire other teachers to become more effective as well as other students to strive to do their best.