North Point Drill Team Takes Second at Charles County Classic Drill Competition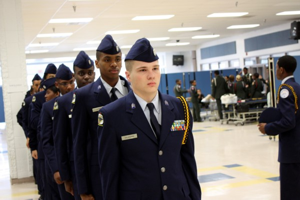 "Excellence is the pursuit of perfection." These are the words shouted as North Point's drill team
prepares for the Charles County Drill Classic (CCDC). JROTC students from Charles County's
six public high schools competed in the annual drill competition at Thomas Stone High School on
February 25. At the competition, North Point placed second overall.
The North Point drill team consists of 3 categories: armed drill team, unarmed drill team, and
color guard. The armed drill team is commanded by Cadet Terrance Hayes ('12) and Cadet
Ray Salvagnini ('12). The unarmed drill team is commanded by Cadet Deveraux Smith ('12)
and Cadet Jeffrey Ellis ('11). The color guard is commanded by Cadet Brandon Foster ('12)
and Cadet Jamey Finley ('13). Each category competes in different eventsincluding regulation,
exhibition, and inspection. At CCDC, drill teams are judged on eight different events, and three
overall champions are chosen.
A regulation event is an event with exact rules. The team has to drill in accordance with a set
manual that instructs the team what to do, and when to do it. Each movement has a procedure
that each cadet has to follow. The team is graded on how well they perform each movement.
An exhibition event is the opposite of a regulation event. An exhibition event has very little rules
guidelines. Teams are graded on the unity of the team, the difficulty of the movements, and the
sharpness of each movement. Inspection events test your knowledge. Each judge carefully picks
each word they say to try to get the cadets to "break their bearing."
"Drill team is like a whole other family. The people I meet at drill team will be my friends for
the rest of my life," said Cadet Mary O'Grady ('12). The cadets on the armed drill team share a
very strong bond, which makes them such a great team.
As cadets reflect on their day at Thomas Stone, Cadet Terrance Hayes ('12) said, "CCDC is
over. Now, it is time to get better, and think about what we can do to improve our performance
for our next competition."
This year's team has performed a lot better than in previous years, but there is always room for
improvement. Earning a second place trophy does not mean that the team will stop practicing
hard. If the team wants to place at national competitions, it is important to put in the work on the
practice floor.
"I think we did really well today, but there is always room for improvement. We have three
more competitions, and that's it for this year. I plan to place first place in all three," said Cadet
Arthur Fortineau ('11).
[nggallery id=70]