[Opinion] How To Get That Bully Off Your Back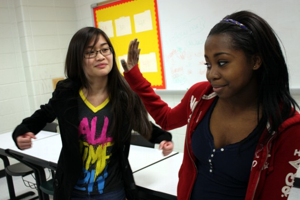 What happens when "saying no" does not work? As much as we deny it, bullying is still
a huge problem in schools today. Bullying is not just physical either. Students have been hurt
emotional and verbally as well. It can happen to anyone and anywhere, and can mostly go
unheard. Bullying is a serious problem, and students need to realize that your parents, friends
and teachers are willing to help you.
"Be active in your school," claims Officer Cusmano. "Students can share their concerns
about bullying with the principal or vice principal." Even though we just view our
administrators as just another adult with authority, they are more than that. Our vice
principals and guidance counselors are standing by to help you out. "Students can speak with
teachers and guidance counselors and express their interest in being involved."
If you feel uncomfortable talking about your problem in school, you can always reach
out to your parents or peers to help. Whoever you talk to, make sure that it gets taken care of.
Guidance Counselor, Ms. Rotondi, says that "any time you feel uncomfortable or are bullied
you need to report it right away. The more bullying is reported, the more that the school can
do to help you."
So how can we avoid being bullied? Rotondi suggests that "when possible, be around
your friends. Students are less likely to be bullied if they are with a friend." If you find yourself
walking alone Rotondi claims you can "have a variety of routes that you can use to get around
as a way to avoid confrontation."
However, you cannot run away from your problems forever. Cusmano suggests that
you should tell an adult, follow-up with your parent or guardian, utilize your resources and if
necessary, involve your school resource officer.
Even if you are not being bullied, you may be the bystander watching the bullying
take place. "If you see someone being bullied, stick up for that person or at least report what
happened to an adult," explains Rotondi. "Most bullying occurs in public locations, so if you
stick up for a student being bullied and you can prevent bullying from happening."
If you still feel scared, your peers are always here to help you through it. North Point
even offers clubs to help prevent bullying. In fact, Ms. Rotondi is interested in starting a Bully
Prevention Club next year. If you want to be apart, go visit Ms. Rotondi in the counseling office.