Second Annual Red Cross Blood Drive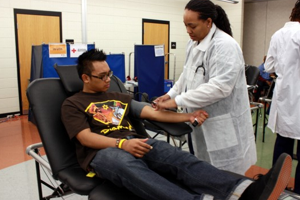 On Friday, March 4, North Point's chapter of the National Honor Society (NHS) hosted this year's second blood drive. The Staff Development room murmured with a quiet buzz of Red Cross nurses and brave students and staff ready to give their blood.
"We have two blood drives every year," stated sponsor, Madame McLaughlin. "A lot of people give in the Fall, but there is always a big need in the Spring."
The community's need for blood is exactly why Cisco teacher, Mr. Stergar stepped out of his classroom to donate. He gives blood every opportunity that he can. "I feel like I'm doing the right thing," he added as he drank from his bottle of water, fulfilling a very important part of the donation process.
Much like Stergar, Rachael Seek ('11) along with her sister Rebecca ('11) likes to give blood as often as she can. "It gives me a sense of satisfaction because I have a rare blood type and I get to help people who need it," she stated.
So far she has tried to share her A negative blood four times. "The first time I donated, I fainted," she said with a laugh. "I got up too quickly and walked too fast so I would warn others to try resting for at least ten minutes before getting up."
Everyone reacts differently to the blood loss. Though many may feel dizzy, tired, or nauseous, others like Chris Blancflor ('11), feel fine. "It was my first time. I always wanted to try it, and I heard we get free cookies. I feel great!" Though he was required to rest immediately after he donated, Chris said he didn't feel any different. "It was exciting but it wasn't anything to be afraid off. I liked it and I can't wait to donate again."
By the end of the day, the Red Cross blood drive was able to collect 40 pints of blood that could save 120 lives.