Former Astronaut Speaks to Earth and Space Science Students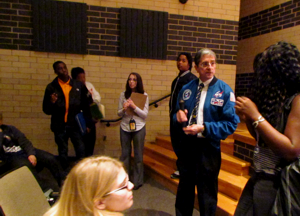 Former astronaut, Dr. Donald Thomas, paid North Point students a visit on Tuesday, March 29. Standing on stage in front of an audience of Earth & Space Science students, he shared candid details of his life experiences.
"I wanted to be an astronaut ever since I was six years old," Thomas recalled. After graduating from Cleveland Heights High School in Ohio, he received a Bachelor of Science degree in Physics from Case Western Reserve University in 1977, and a Master of Science degree and a doctorate in Materials Science from Cornell University in 1980 and 1982.
Nine and a half years in college didn't drive away his dream of becoming an astronaut. "The first time I applied, I didn't even hear back from them," he began as he described NASA's recruitment process. When he was rejected a second time, he realized how hard the selection process really was and that he needed to find a way to stand out in NASA's large applicant pool. He was rejected a third time but didn't give up. Instead, he moved to Houston, Texas where he worked at Lockheed Engineering and Sciences Company, reviewing materials used in Space Shuttle payloads.
After Thomas' fourth try, NASA finally recruited him and in 1988, he joined NASA's Lyndon B. Johnson Space Center as a Materials Engineer.
"It doesn't matter what you want to do in life, just never give up," he advised his young audience. "When NASA didn't want me the third time, I cried for about ten minutes, but when they recruited me on the fourth try, I screamed for about ten minutes."
Thomas said that his seventeen years as an astronaut was an incredible opportunity. "One of the most amazing things to see is the sunset from space. In one day, I saw sixteen sunrises, and sixteen sunsets."
Dr. Thomas joined Towson University in 2007 as the director of the Hackerman Academy of Mathematics and Science, an outreach program targeted at getting youth more interested in science and math careers. He visits about 80 to 90 Maryland schools each year to talk to students about his experience, the importance of chasing goals, and how hard work really pays off.
"I had to wait until I was nearly forty to do what I wanted to do. But it was all worth the training and the effort. I got to go into space four times and I'd do it all a million times over."
Mrs. Kiorpes organized this event in hopes that it would inspire North Point's youngest class of students. "I thought it was important for them to see the value of Earth & Space and how far it could go as a career," she said.
Ms. Rhode was equally as excited about the event. She said, "I think it's great that our students get to see how what they learn in the classroom can apply in the future."