From Baghdad to the Blackboard: Mr. Nolan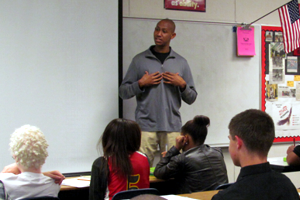 Everyone has a story. Some stories, however, are much more interesting, and consequential, than others. Case in point: Mr. Nolan, Physical Education teacher and basketball coach. Nolan has used the experience he gained serving in the Armed Forces to become an excellent teacher and role model.
Nolan recalls his service in the United States Marine Corps Reserves as an eye opening adventure that took him far away from Maryland, to the distant shores of Iraq, Kuwait, and Mexico. There, he saw the wonderful possibility and unfortunate malice that exists in all human beings. In one instance, Nolan found himself riding through Iraq on Easter Sunday. Driving through the roadside, he and his fellow soldiers threw meal packages and candy to adults and children lining the route. The children experienced joy at being given something, anything to eat. But that joy was gone in a flash.
"As I looked back my whole mood changed. An adult charged toward the children and took an MRE away from one of them. This truly showed what hunger can do to the mind set of a person who might be malnourished or who has not (eaten) in days," Nolan remarked. His deployments also made him more cognizant of the rights, freedoms, and possessions that Americans enjoy, but in his eyes, too often take for granted.
Though the hallways and classrooms of North Point are worlds away from the battlefields of Operation Enduring Freedom, Nolan is able to apply the lessons he learned during his seven years in uniform to those he conveys to his students.
"Yes, I know for a fact that the military has influenced my teaching style," he said, mentioning that his training has helped him control his tone of voice, become aware of multiple intelligences, cater to different ethnic backgrounds, and become more alert to safety issues, a function that is especially helpful as a coach and P.E. teacher.
"Mr. Nolan is a teacher you couldn't forget and definitely in a good way," remarked Maggie Campbell ('13). "I was able to understand the material he taught completely and enjoyed coming to his class everyday."
Nolan's teaching benefits not just from his military background, but his passion for the job itself. His mother was a Physical Education teacher in the Virgin Islands. This must have subconsciously influenced Nolan because, as he puts it, "One day during my senior year of high school, I woke up and I just knew I wanted to become a teacher, and I never looked back."
Despite the perceptions that exist about Nolan, many students would be surprised to find out that he has a deep background in dance. From an early age, Nolan's mother, who taught dance, trained him in many forms, including tap. To this day, Nolan remains a fan of the film "Tap", whose tagline states, "Sometimes, no matter what, you can't escape the rhythm." Nolan has in fact embraced it, just as he embraced teaching and his students.