National Honor Society Welcomes New Inductees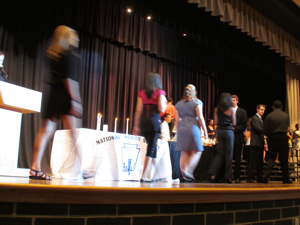 Scholarship, Leadership, Service, and Character are the four principles that students hold as members of the National Honor Society (NHS). On April 27, North Point's chapter of the NHS was proud to induct 82 new members this year.
Not even a tornado warning could keep eager inductees, their friends and family from attending the ceremony. After a 45 minute wait in the JROTC suite, the students finally lined up in alphabetical order as their supporters found their seats in the auditorium. "I think it's great to see all the support this year, even with the weather outside," commented Chiebuka Ezekwenna ('11).
Getting inducted into the National Honor Society requires nominated students to go through a rigorous application process to be selected. Students must maintain at least 3.75 grade point average throughout high school, and meet additional qualifications based on scholarship, leadership, service, and character.
Briana Guerrero ('11) was excited to be inducted this year. Along with an outstanding grade point average, she also volunteers at the Civista Medical Center. "Volunteer work is important to me because it helps me give back to the community," she stated. "I'm glad that my past experience helped me stand out during this process." Jenna Dutton ('11) is also excited to be a member of the prestigious society. "I definitely plan on holding on to these qualities and carrying them on with me when I go to Towson this Fall."
Students walked across the dimly lit stage confidently as their names were called up. They stood on the risers with a candle in their palm and recited the National Honor Society pledge. After the ceremony, parents and supporters joined the new inductees for refreshments. For these new inductees, hard work, determination, and being a well-rounded student, paid off.