The morning of May 18 featured an unusual sight at North Point: students gathered at school, bright and early at 5:15 am, all giddy with excitement. Nearly forty National Honor Society members and five chaperones were just beginning a whirlwind day trip to New York City, featuring a performance of "How to Succeed in Business Without Trying" starring Daniel Radcliffe, most famous for his role as Harry Potter, and John Laroquette, known for his appearances on Night Court.
The trip was conceived as a way for the Society to celebrate its success from the Best of Charles County Expo. The idea to see Radcliffe's musical was brought to the table by Nick Teleky ('11), NHS President. "I was actually really pleased that high school students wanted to experience culture like a Broadway play…culture is not dead," stated Madame McLaughlin, NHS Advisor and French teacher, with a smile.
After catching up on much needed rest during the four hour bus ride, students were greeted to New York by the looming skyscrapers of Midtown Manhattan as they exited the Lincoln Tunnel. A dreary sky and light rain didn't damp the students' spirits. After a short rendez-vous near Rockefeller Plaza, the group was given free reign to explore the streets of the city on their own. Some grabbed a bite to eat from the Stardust Diner, where all of the waiters sing and dance, as others went shopping in the four story Forever 21 in Times Square.
2:00 pm brought the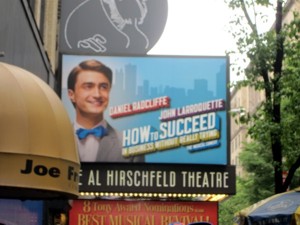 moment that all were waiting for, as the students made their way to the Al Hirschfeld Theater near Times Square. Numerous photographs of Radcliffe lined the street leading to the entrance, and the feeling of excitement was palpable throughout the crowd. After taking their seats in the lower rows of the balcony area, students excitedly remarked on just how close they were to the stage. For many, this was an opportunity to see a childhood icon up close, live, and in the flesh.
"It was awesome just to be in the presence of someone so important," said Kelsey Renner ('11). "I think it was really amazing to see him in a role so totally different from Harry Potter."
Soon, the lights dimmed and opening notes of the musical floated through the high ceilinged room. The first scene of the play featured Radcliffe rising up from the orchestra pit on a wooden bench, pulling himself up via rope lines, playing the part of a window washer by the name of J. Pierrepont Finch.  He held in his hand a book on how to succeed in business without trying, a source of information that would be essential as he tried to climb the ladder of success at World Wide Wickets, a company owned by J.B. Biggley (Laroquette).
From there, the musical flew by in rushes of perfectly coordinated dancing, roof raising singing, and excellently timed comedy. Bud Frump (Christopher Hanke) was a character that often stole the show, acting as Finch's nemesis at the Wickets company. Rosemary Pilkington (Rose Hemingway) was a lovable love interest for Finch with her own moments of triumph and showstopping numbers.
McLaughlin stated that her favorite moment was "finding out that Daniel Radcliffe can sing," a sentiment that was shared by many. All of Radcliffe's notes met the right pitches, while his sashaying and high kicks were perfectly in place. "He was amazing," said Renner.
After the final curtains, the group spent a bit more time wandering around the stimulating streets of New York City, and went to dinner at Planet Hollywood, a restaurant in the heart of Times Square. The entire space was filled with film and sports memorabilia, from masks used in Beetlejuice to Will Smith's handprints.
Returning to North Point at 1:30 am, the day was long, but in the eyes of every student, very well spent.