Meet Mrs. Grow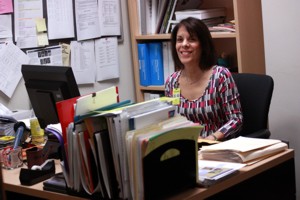 Tucked away in the Student Services office, with walls lined with college paraphernalia and shelves chock full of information, is the Career Center. Run by Mrs. Grow, the center is an indispensable source of advice for students on any post high school plan, be it a four year university, a two year school, the Armed Forces, or the workforce.
From her perch in the Career Center, Grow gains a unique perspective on North Point's students as she shepherds them from naïve freshmen to graduating seniors. In 9th grade, Grow focuses on a career assessment, given to all students, that points them a direction they may want to pursue in the future. Sophomore year brings testing in the form of the PSAT, while as 11th graders, students receive a Junior information booklet detailing the important tasks ahead, such as researching colleges and majors. When students reach their final year at North Point, Grow distributes senior information booklets and regularly visits 12th grade English classes.
Grow's own career path began at Prince George's Community College, after which she entered a world far different from high school counseling: dentistry. Grow took a break from work while she was raising her children, but jumped back in after they grew up, starting out as a substitute teacher. From there, she became an instructional assistant at the county's precursor to North Point, the Career and Technology Center.
Much of Grow's daily tasks relate to scholarships – researching, categorizing, and making them known to students. A table near the entrance displays thick 3-ring binders filled to the brim with scholarships, from those for left handed people to ROTC awards. The most critical time for scholarships is winter, from January to March. She also sorts through many other opportunities for students, from internships to employment opportunities.
Grow adds, "I spend a lot of time with the College Fair."  Working with College & Career Advisers from the other high schools, as well as the Supervising School Counselor, she aids in advertising and planning that event, which is open to juniors and seniors. Throughout the year, college representatives and military recruiters also make pilgrimages to the Career Center. At times, she goes to them, combining her loves of travel and college admissions.
"Research before senior year and be ready to apply early" are Grow's biggest pieces of advice for students as they prepare to reach 12th grade. Working so hard in the Career Center, Grow urges students to take more advantage of the resources at their fingertips. Given what the Center offers, following her advice should be easy.